Choosing a home care agency in Trafford, Manchester.
Published on 18 February 2021 10:51 AM
Let us explore the challenges of selecting a home care service.

This article has been written on behalf of Age UK Trafford by Beloved Homecare. Beloved is a local home care provider of personal and domestic care services in the Trafford Borough. Offering care and support to its clients who continue to live independently at home.

Beloved Homecare has recently been awarded an 'Outstanding' inspection rating by the Care Quality Commission (CQC). This makes Beloved the only provider of domiciliary care within the surrounding areas of Trafford to have such a rating.

We appreciate that putting trust in a home care agency in Sale, Altrincham & Urmston is a big ask; either for yourself or loved one. It's becoming increasingly common that those of a certain age wish to receive care at home, in the comfort and familiarity of their own homes, rather than moving into a residential home.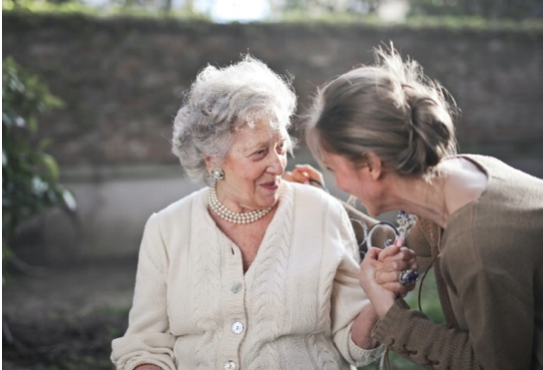 Quality
One of the key indicators of a quality home care provider is their CQC rating. CQC inspectors regularly inspect services to ensure they are providing a safe and quality service.

As an independent body, they are impartial and set quality standards for providers to adhere to. The highest quality services are awarded 'Outstanding'. Inspection reports can be viewed on the CQC's website as well as the home care providers own website. All ratings are required to be in the public domain, Homecare.co.uk is another credible quality home care agency indicator.
Homecare.co.uk acts as a comparison site for all home care providers. The site showcases independent reviews from clients and families of loved ones. There is functionality on the site to search for home care agencies in 'Altrincham', for example. Google reviews and Facebook reviews are another great way to find out what people think of a company too.
Cost
The cost of care visits can often be a source of confusion for people. Entitlement, availability and source of funding are often the most asked questions. Age UK has some great advice about paying for care. Depending on your financial position you may be required to pay 100% of your care costs. Alternatively, you might be eligible for financial support from the local authority.
Direct payments are a way to access financial support from the local authority whilst retaining control and choice of the care provider. Instead of the council organising the care package for you, usually through a commissioned service, the person or family are able to manage the package and choose the company of choice whilst still receiving the same amount of financial assistance you are entitled to.
You can contact Age UK Trafford on 0161 746 3940 or admin@ageuktrafford.org.uk for further advice on paying for care locally.
Staff
If the home care provider you have chosen is going to be sending members of staff into your or a loved one's home you need to make sure the staff have been suitably vetted.

Beloved have been praised for their 'Robust' recruitment processes by the CQC. Ensuring all members of staff have an enhanced DBS check and full references. This is crucial to the safety of the service. If you are unsure as to what practices a home care agency has in place for recruiting responsibly, we would recommend scanning through the CQC report or requesting a copy of a recruitment policy.
Questions
It is important when arranging a potential care package, you ask the right sort of questions. Below, we have sampled a few of the best and most asked questions. We hope they will help you identify the best home care agency for you or a loved one.


How many carers will be visiting myself or a loved one? Continuity is important.
How are my, or a loved ones needs assessed? Is there a full assessment process before the start of a care package?
Do staff wear full PPE?
What procedures have been put into place to reduce the transmission of COVID-19?
What measures are in place to ensure the Care Assistant arrives on time and stays the full duration of the visit?
What assistive technology is available to families, if any?
Has the home care agency received any safeguarding alerts or complaints?
How flexible is the package? If changes are needed, what is the process?
Obtain certainty on the time of the visits. You want to have an idea as to when you can expect to see people.
Is there a review process in place? If you or a loved one's needs change how are those needs identified. 6 monthly reviews for example?
How are staff recruited safely?
Can the Care Assistant's car be used to go shopping and for other trips? If this is the case, it's important to ensure the member of staff has valid 'Business' Insurance for their car.
How are staff trained? Are staff given regular refresher courses?
Try not let the journey of choosing a home care agency be a lonely one. There are plenty of organisations like Age UK Trafford & Beloved Homecare who offer advice and support.