CAMBUS (Coffee & Memory Bus)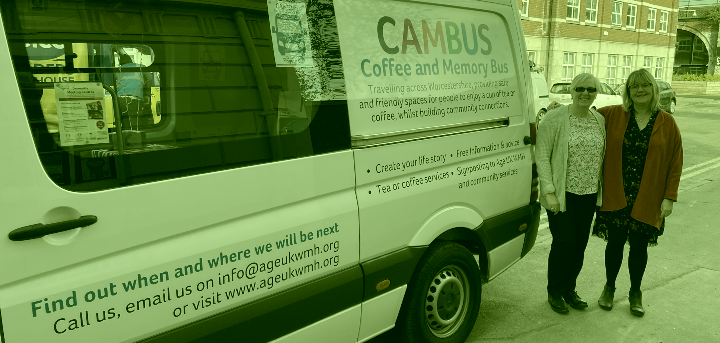 Introducing Mary, our CAMBUS. Travelling across Worcestershire, providing safe and friendly spaces to enjoy a hot drink, whilst building community connections. Get expert information & advice and signposting to Age UK and other community services. For those living with memory loss or dementia we can create your life story.

What is a life story?
• Life Stories Herefordshire and Worcestershire is an online platform that allows anyone living in either Herefordshire or Worcestershire to create their own digital life story book. While people often think about life stories as being used to support people with dementia, capturing information about what is important to you can actually be interesting and relevant for anyone. There is evidence that it can make a difference for people across the lifespan, including not just people with dementia but those with learning disabilities and children who have been in the care system.

Visit Mary, our CAMBUS, to:
• Create your life story
• Get free information & advice
• Enjoy a safe space to chat over a hot drink
• Get signposted to other Age UK Worcester & Malvern Hills and community services
Where will our CAMBUS be next?
We are in the process of scheduling dates. Dates will be updated regularly and are subject to change. If you would like the CAMBUS to visit you or your area, please contact us to register your interest.

To find out when and where Mary will be, visit the link below.
https://www.ageuk.org.uk/worcester-malvern-hills/our-services/cambus-schedule/
Visit the CAMBUS website
Our partners have put together a dedicated website to both Molly and Mary the CAMBUS's. Find out more about our buses, what we can do, where we will be and how you can get in contact.
https://cambuswh.wordpress.com/
How can you contact us?
Please do contact us on any of the following methods, to register your interest in getting our CAMBUS to visit you or your area.

Telephone:
• 01905 724294 (Worcester)
• 01684 560666 (Malvern)
• 07494762138 (Tenbury)

Online:
• Use the link below to contact us online