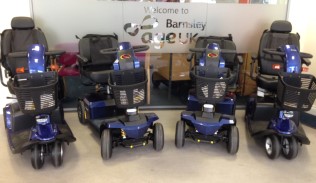 What is Access Barnsley?
Access Barnsley provides scooter and wheelchair hire to enable people who are restricted by temporary or permanent disablility to be able to access the shops and facilities of Barnsley Town Centre. We also have a small range of items that promote independent mobility which are available to purchase including RADAR Keys.
Where are we?
Age UK Barnsley Charity Shop
31-33 Eldon Street
Barnsley
S70 2JJ
How to hire a scooter or wheelchair:
We have powered scooters and manual wheelchairs that can be hired Monday - Saturday (excluding Bank Holidays) for either half a day or a full day.
Full Day:
£5.00 per day
9:30am -4:00pm
Half Day:
£3.00 per half day
9:30am - 12:30pm or 1:00pm - 4:00pm
People must register and undergo a safety assessment before using the service but there is no charge for this.
It is advisible to book the Scooters and Wheelchairs. Bookings can be made up to 7 days in advance.
Download our Access Barnsley leaflet here.
How to book:
Telephone: (Between Monday and Friday 9:30am - 3:30pm) 01226 776828
Text: 07387 750091
Other information you may find helpful