What we do...
The Health and Wellbeing Centre provides Day Care in a friendly and stimulating environment for people who need a little help with daily tasks as well as those with more complex needs. We also offer support for those with dementia and older people's health conditions.
Day Care also gives family or friends a well-earned break. Most of our team have been here for ten years or more and we're very proud of the centres friendly atmosphere.
Listening to people is one of the most important things we do, so that we can truly get to know them and we make sure they get the most out of every day.

Our busy activities programme includes gentle exercise, art and crafts, internet sessions, sporting activities to local history reminiscence.
We focus on supporting people to retain their existing skills, and to gain new ones and we believe that you are never too old to enjoy something new or different.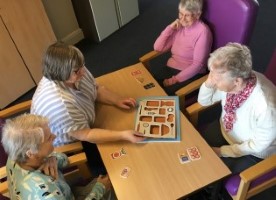 Staff ensure that every person can get involved in something they enjoy, and by providing a great range of activities and delivering truly person-centered support, our day care services promote the health, happiness, wellbeing and independence of people we support.
As well as activities we provide a hot midday meal and refreshments throughout the day.
Things people have said:
"I feel much happier at the day centre. My daughter visits 3 times a week but I look forward to coming, day care is my life line."
"Since attending day centre mum's mood has significantly improved and made her more conversational and she appears much happier with herself."
"On behalf of my mam I'd like to thank everyone for their support. Mam comes home happy and tired but in a very content way, mam loves coming home with the things she's made and these take pride of place on her dresser."
"I don't know how I'd be without day care I'm a different person now from when I first started."
If you would like to attend:
You will need to contact your district social work office for an assessment of your needs under the Fair Access to Care criteria (FACS). We are also able to offer places at the rate of £43.23* per day to people who are currently outside the FACS criteria and who wish to purchase privately and to people receiving a Personal Budget.
We welcome visits from prospective service users and their families.
*There is an additional charge of £4.00 for a tasty 2 course lunch.
Where are we?
36a Queens Road
Barnsley
S71 1AR
Opening times:
Monday to Friday, 9:00am - 2:30pm.
Contact us:
For more information or to arrange a visit or trial day please contact us:
Telephone: 01226 776820
Email: enquiries@ageukbarnsley.org.uk
Information Leaflet
Click the download button to the right in order to download our Day Care information leaflet
Other information you may find helpful
Related pages on our website