Memories of Lakeland Laundry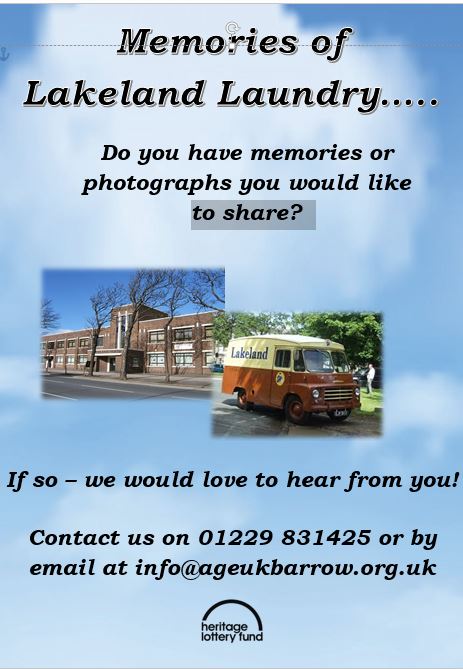 Age UK Barrow and District are based at Lakeland House on Abbey Road, an art-deco building (opposite the Old Fire Station).

On numerous occasions over the years visitors to our building have often commented on their memories of when the building used to be a laundry - called Lakeland Laundry.

Due to extensive refurbishment, the building is quite different from the inside but the external facade is still recognisable. Often, visitors to our building will enter, look around and try and recall what the building previously was. The only original artefact from the laundry days is the clocking in and out clock, which is immediately recognised by many as the one they once used every day of their working lives and starts many conversations about days gone by. It was a common sight to see Lakeland Laundry vans dropping off and picking up laundry from customers homes. In its heyday, the laundry even had its own dance troupe!

We are now keen to really embrace this fascinating heritage and to capture these
personal stories before they are lost forever. With funding from The Heritage Lottery, we plan to make a permanent exhibition to celebrate our heritage.

If you have any memories or photographs you would like to share we would love to hear from you.

For more information please contact us on 01229 831425, email info@ageukbarrow.org.uk or pop in and see us at Lakeland House, Abbey Road, Barrow.