Key Safe Supply & Fitting Service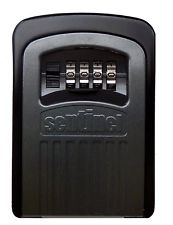 We offer a Key Safe Supply & Fitting Service for a fixed charge. Key safes are a valuable security feature which enable access to your property by trusted visitors. The Sentinel Key Safe is simple to use without compromising your security. Our aim is to help older people remain in their own homes for longer.
The Sentinel Key Safe is a wall mounted combination operated key safe, used to store front or back door keys. It is ideal for allowing friends, family, a GP, nursing staff or carers access to your home if answering the door is difficult.
The resettable combination means you can change the combination at any time. The Sentinel Key Safe has a reinforced weather proof body which provides resistance against hammering, sawing and poor weather conditions.
You can contact us by email, telephone, in writing or simply drop into our Bedford office for information on current pricing.
Phone: 01234 360510
Address: 78 - 82 Bromham Road, Bedford, MK40 2QH