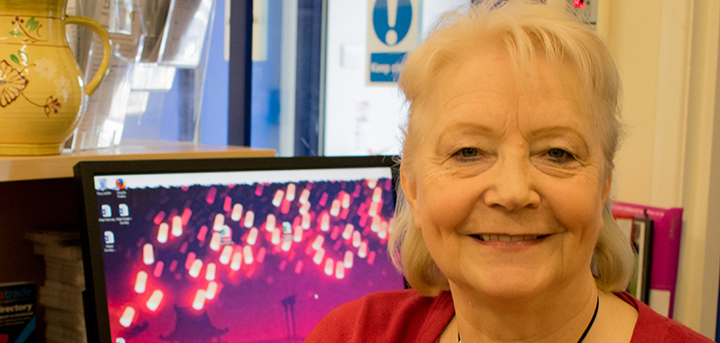 Christine (pictured above) has been volunteering with us for four years now, after retiring just a few months before. Prior to retiring, Christine was a housing manager based in Wembley.
Christine left her home in Birmingham at 17 to join the army and see the world, but she only made it as far as Woolwich. Christine has lived in London and the South East ever since, holding a variety of different jobs, including perhaps her most glamourous position as a housekeeper to the rich and famous!
Once Christine retired, she decided she would like to volunteer some of her time and looked at Age UK as one of her options, having worked with elderly people and care homes in her past. 'I like elderly people', Christine tells me, 'they have such interesting stories to tell'.
Christine befriends two of our clients, including Betty, who she has been seeing for almost four years. Christine and Betty have built up quite a friendship and a rapport over the four years. Christine speaks of the responsibility involved with befriending and highlights the importance of consistency in the service to older people. "It is important to keep a particular date and time - to avoid letting people down".
'I enjoy my work at the reception' Christine says, the sense of satisfaction from enabling someone to get the help that they need is one of the highlights of her volunteering. Without our volunteer receptionists, the organisation would struggle to remain efficient. Our reception volunteers enable us to link all of our services together and provide a streamlined service for our clients.
Christine encourages others to try because it gives her a sense of achievement and wellbeing - 'Even if you're working - if you can spare a couple of hours, it can make a huge difference. The country is built on community spirit - we don't want to lose it!'
Christine tells me that when she finished work four years ago, it came as a bit of a shock to her, as she had worked all her life. She considered volunteering for a few months, but kept putting it back a few weeks because she was worried that it might not leave her enough free time. 'If anyone is thinking about volunteering, it doesn't take away from your other hobbies and interests. Instead of waiting to volunteer, just try it!'
To find out more about volunteering with us at Age UK Canterbury, visit our volunteering page, pop into our centre or call us on 01227 462368.