Age UK Hereford & Localities offers a free and confidential information and advice service for older people, their families and carers.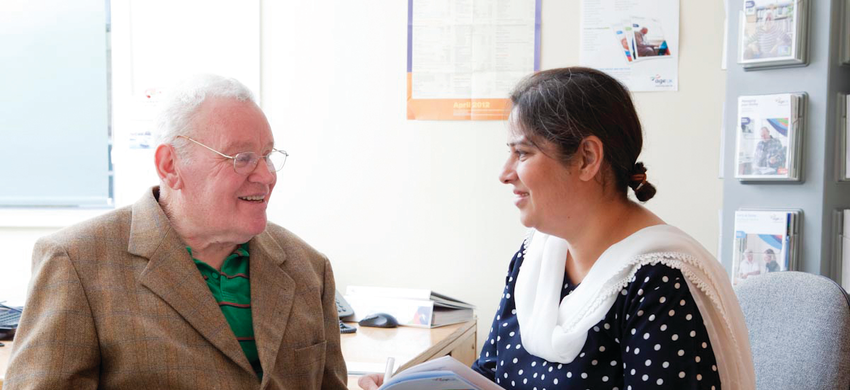 How to access the service
Phone 0333 0066 299 (our general number) and ask for information and advice. If no information and advice officer of volunteer is available to talk, then we will take your number and ask one of them to get back to you as soon as they are able.
Email us at contact@ageukhl.org
Book an appointment at one of our offices in Leominster, Ledbury or Bromyard. It is also sometimes possible to see someone when you drop in, though we can't always guarantee that there will be anyone available. There is a lot of demand for this free service, so we do recommend that you book in advance if possible.
Usual Opening times for Information and Advice
Bromyard office, Buttsfield House:
Tuesday 9:30 am to 2:00 pm
Hereford office
Our Outreach Information and Advice Officer is now available in Hereford one day per week. If you would like to make an appointment please contact us on 0333 0066 299 or email contact@ageukhl.org
It may also be possible to arrange a home visit.
Ledbury office, The Masters House:
Monday 9:30 am to 2:00 pm
Thursday 9:30 am to 2:00 pm
Friday 9:30 am to 2:00 pm
Leominster office, 30 West Street:
Tuesday 9:30 am to 2:00 pm
Wednesday 9:30 am to 2:00 pm
Thursday 9:30 am to 2:00 pm
Topics we cover:
Our advisers are trained to help you on the following topics.
Social care - such as finding a care home or getting some help at home, and how it's funded.
Your income - including free benefits checks and help with applying for benefits.
Your home - information on staying warm at home, home adaptations and how to prevent falls.
Free booklets and online information
Age UK produces free information guides and factsheets on a wide range of topics, including home adaptations, dementia, and advice for carers. You can find a complete list of guides and factsheets on the Age UK national website.

If you prefer to read information online, the Age UK national website has information and advice on many topics, including how to find a care home, how to avoid scams, and Power of Attorney.