Computers and the Internet
Computers and the internet are now very much part of everyday life. However, many older people are still not online. Learning to use a computer (or a tablet or a smartphone) for the first time can be a daunting experience but there are many benefits to using a computer, both financial and social. For example, you can use the internet to stay in touch with friends and family, order groceries, research information, pay bills and check your bank account.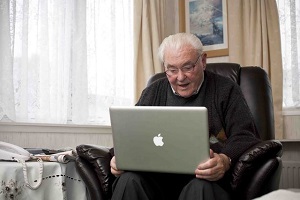 Computer clinics for for Beginners and Improvers
You can bring your own laptop or tablet or use one of ours in a friendly individual hands on session with one of our tutors. Our able and friendly tutors offer individual guidance and teaching for all Tablet, iPad, Laptop, Smartphone and desk top computers users. You decide what you want to learn, so, for instance, you could focus on emails or photographs or the Internet or just sort out a problem with your laptop.
Topics can include:
The Internet:
How to make use of the internet: search, fill in forms, book tickets, apply for a bus pass, update your driving license, retax your car, book a doctor's appointment, etc, etc.
Email:
Learn to email or come for a refresher
Set up a free email account, Write and reply to emails
Send attachments including photographs,
Avoid email scams,
How to organise your emails including deleting.
Photographs:
How to organise your photos, Edit your photos
Store your photos, Create an online album, Sharing photos including emailing
Find your photos
More information
Ring the office for details of our one to one computer sessions for beginners which take place at our offices at Great Malvern railway station. Currently they are on Tuesday and Friday mornings.
The one-hour sessions cost £5 including refreshments. You can use the one of our laptops or tablets, or bring in your own.
Home visits can be arranged for those who cannot get to the office or to resolve technical problems with broadband setup, etc. These cost £15 but availability is limited.
Computer helpers needed!!
We are particularly looking for people who can help older people get online and make the most of the Internet. If you can help, please contact us - for more info see here...