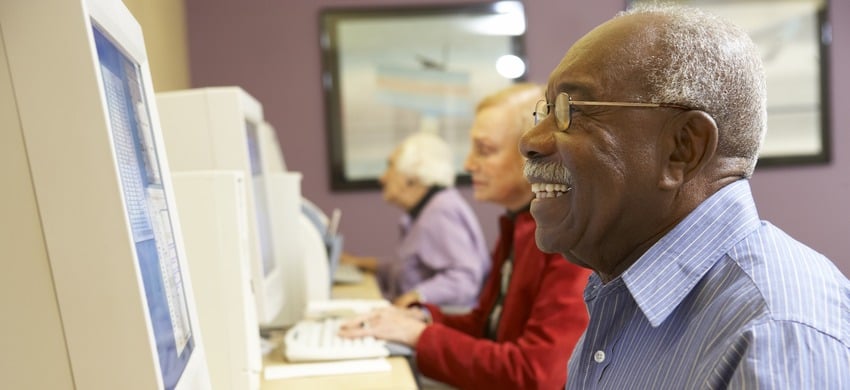 Age UK North Yorkshire & Darlington is a local independent charity, and we are committed to delivering quality assured services and activities to our customers.
We've been in operation since 1989, offering a wide range of services, all tailored for the over 50's.
We adopt shared governance as part of our organisational culture which means that our customers, volunteers, partners and staff have a strong voice in what and how the decisions of the organisation are made.
We ask, we listen and we focus on the needs of our customers, this enables us to provide the right services. Our Mission is – "to enhance the health and well-being of older people by promoting quality-assured activity, information and care; ensuring that older people have opportunity for choice and continued independence".
About Age UK North Yorkshire & Darlington
Our History

We've operated since 1989, previously under the name Age Concern Darlington. In 2017, we became Age UK North Yorkshire & Darlington.

We have been based in Bradbury House, Beaumont Street West, in Darlington since 1996, with services operating in North Yorkshire and Darlington.

Meet the Team

Learn about our organisation, and the team who are actively working to support older people across North Yorkshire & Darlington.

We employ around 20 staff and up to 200 volunteers in the following:

Information and Advice Team
Catering Team
Day Care Team
Projects
Activities

Core team and Chief Executive

Publications

View our most recent publications, including Annual Reports, Brochures & Studies.

This page is being updated

Funders

Our valued funders, who support our work to help older people in North Yorkshire & Darlington to love later life include:

The general public of Darlington and North Yorkshire with their kind donations, support for our activities and those who leave us a legacy.

The Bradbury Trust
Darlington Borough Council
North Yorkshire County Council
Age UK National
The Wilan Trust
Cummins Ltd
County Durham Community Foundation
The Tees, Esk and Wear Valley NHS Trust