**All face to face information and advice offered by Citizens Advice Salford is currently suspended. They can be contacted by telephone on 0300 3309 074 (Monday - Friday (9am - 4pm)**
**The Legal Services provided by DLS Solicitors are currently suspended until further notice**
Age UK Salford in partnership with Salford Citizens Advice Bureau (CAB) and DLS Solicitors offers a free and confidential information and advice service for older people, their families and carers.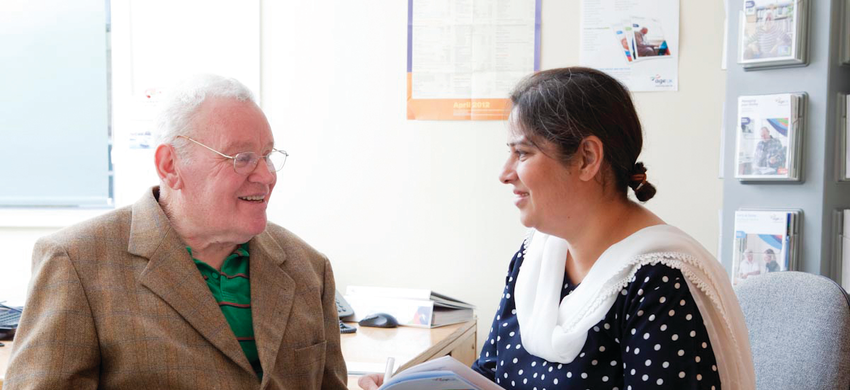 You can drop in to our main office in Eccles any weekday between 9.00am and 2.30pm and speak to one of our friendly advisors who can help you with basic enquiries about Age UK Salford services and other services available across Salford for older people, their families and carers.
Contact Citizens Advice Bureau Salford by Telephone
If you need advice from Salford Citizens Advice - older people or their family support members contact them for advice either on 0300 3309 074 or via email.
You can make an appointment to see a Citizen's Advice Bureau advisor, free of charge at our office in Eccles or at Critchley Community Hub in Swinton.

We also offer a low cost legal services clinic every fortnight in partnership with DLS Solicitors.
Citizens Advice Salford
The CAB Salford are available every Thursday morning.
Church Street, Eccles
CAB appointments (between 9.00am - 1.00pm) must be pre-booked.
Call 0161 788 7300, drop in to our office in Eccles, or email reception@ageuksalford.org.uk to book an appointment.
Critchley Community Hub
CAB sessions are on a drop-in basis and available between 9.00am - 12 Noon.


Legal Services Clinic
You can book an initial 30 minute consultation free of charge at our Church Street office with a solicitor from DLS Solicitors. for more information, see Legal Services at Age UK Salford.
Keep Well this Winter
As we get older it can be harder to stay healthy during the winter.