Age UK Trafford offers a free and confidential information and advice service for people over 50, their families and carers.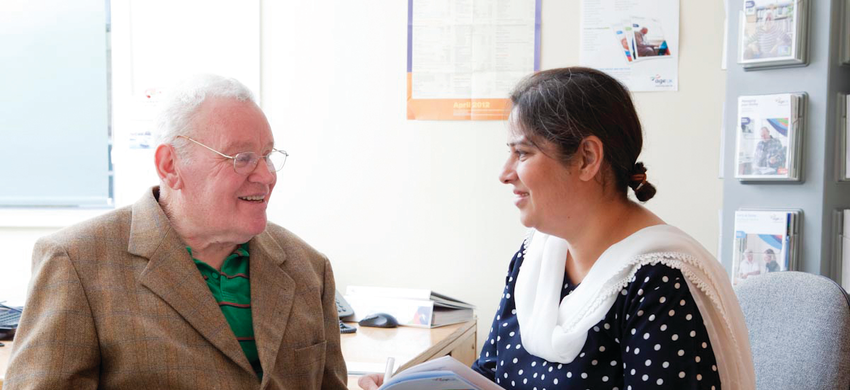 How to access the service
You can access our information and advice service in a number of ways.
By phone: 0161 746 3940
By email: admin@ageuktrafford.org.uk
Fax: 0161 746 3949
At our office: Book an appointment or drop-in to our office in The Sharples Building, 1-3 Church Road, Urmston, Manchester, M41 9EH.
Our Information and Advice service is open
Monday to Thursday, 9.30am - 1pm
(Outside of these opening hours your call will be transferred to the Age UK national helpline who will be able to give general advice.)
Some of the Topics we cover are :
State Pensions
Benefits advice and support e.g. Attendance Allowance/Pension Credit
Form filling (by appointment)
Making a will (discounted wills service available by appointment)
Residential and nursing care information
Weekly bed list for residential and nursing homes
How to access care at home
Retirement housing options
Traders list
Information on local groups
There are just some of the topics we can provide information on, please contact us using the details above to find out more.
Traders Register
We hold lists of traders/workmen such as decorators, electricians, joiners etc. Whilst we cannot take responsibility for their work, we do take up references for them and check their insurance details and other appropriate documents such as gas safe registration.
Weekly Bed list
Are you looking for a care home or nursing home? We currently provide a bed availability list that we update on a weekly basis, giving accurate information on care homes in Trafford. You can find this here.
If you would like us to email you the list please contact us.
Solicitor surgery
We offer a free 1/2 hour no obligation appointments with a solicitor to discuss wills, power of attorney, probate, court of protection. You can take advantage of a discounted will which is £90 for a single will and £135 for a double will for couples. (Please note the Solicitor you will see is completely independent of Age UK Trafford.) Please ring to make an appointment. We also have a solicitor offering free ½ hour appointments on issues such as top up fees, continuing healthcare, issues around the funding of care.
We treat everyone with fairness, dignity and respect. We won't judge anyone based on their age, disability, gender identity, sexual orientation, ethnicity or religion.
Free booklets and online information
We will be holding live zoom sessions every Thursday from 1.30pm to 2.10pm on the following subjects:
25th June – Attendance Allowance
2nd July – Carers Allowance
9th July – Pension Credit
16th July – Housing Benefit and Council Tax Reduction
23rd July – How to do a Benefits Check online
30th July – How to apply for a Blue Badge
Contact us for further information on how to join these sessions.
Carers Allowance and how to apply for it video
Here is a short video explaining about Attendance Allowance and how to apply for it. Contact us if you need any further information or help to apply.
Council Tax Support
Help with Housing Costs
Benefits Check Online
Please see this clip where Shivani our Information and Advice Manager explains how you can do a benefit check online. Here is the link to do a check yourself. If you prefer we can arrange to carry out a check over the phone. Just call us on 0161 746 3940 Monday to Thursday 9.30am – 1pm.


Download our free information leaflets

About Age UK Trafford Leaflet
Age UK Trafford Services Leaflet
Age UK produces free information guides and factsheets on a wide range of topics, including home adaptations, dementia, and advice for carers. You can find a complete list of guides and factsheets on the Age UK national website.

If you prefer to read information online, the Age UK national website has information and advice on many topics, including how to find a care home, how to avoid scams, and Power of Attorney.