#the100
Published on 08 October 2020 09:18 AM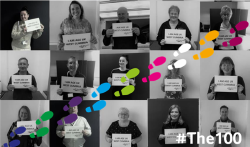 We want 100 people to walk 100 miles over 100 days to raise £100 for Age UK West Cumbria.
During lockdown, many people have become less mobile, less active and less connected to the outside world. Like many other organisations, Age UK West Cumbria have experienced an upsurge in demand for their services... and as winter approaches, this is only going to increase. We need your help to raise funds for vital services within our communities. Help us to reach the most vulnerable people who may be finding it hard to connect with others in this strange new world; who might need support navigating through new situations and circumstances; who might simply need a friend.
Will you take on the #The100 Challenge?
#The What
We need 100 people to walk 100 miles over 100 days and raise £100.
#The How
Email us at the100@ageukwestcumbria.org.uk with your name and contact details saying you would like to take part and we will send you the fundraising link. Sign up and commit to walking 100 miles over a period of 100 days and raising £100 for Age UK West Cumbria. Thats it! Theres no right or wrong way to clock up the miles. You can tackle it in your own time and do as little or as much as you like each day.
#The Where
There are no rules about where you can complete your miles. If you cant get outside, you can count the steps you do indoors or even the distance covered on a running machine. All the money raised will support West Cumbrian projects.
#The When
Anyone, Anywhere, Anytime, Any Shoes!
#The Why
During lockdown, our outdoors-loving-free-spirited CEO Jane Mindar was cooped up inside and missing her beloved Lakes. Brainstorming fundraising ideas, she got caught up in the moment, and misremembering lyrics to a Proclaimers song, she came up with the #The100 Challenge. (Good news for participants that she got the lyrics wrong... otherwise the challenge would have been 500 miles)
Of course, on a more serious note, this is a fantastic way to encourage people of all ages and abilities to get moving, get involved and get fundraising for a great charity. After such a long period of people being behind closed doors, we hope that #The100 gives people a chance to be inspired, get active and join together to make a real difference.
#The Extras
We'd love to see your pictures of where and when you've walked. Download our #IAMAGEUKWESTCUMBRIA sign and take a picture of yourself taking on #The100 Challenge. Send to the100@ageukwestcumbria.org.uk or upload to facebook and tag @ageukwestcumbria
#The Result
More movement. More activity. More engagement. More fun.
And £10,000 raised by people of all ages and abilities to invest in much needed services for our community.
Age UK West Cumbrias #The100 Challenge. Will you be one of #The100?
Sign up today to be one of #the100
the100@ageukwestcumbria.org.uk