Here at Age UK West Cumbria, we have put together some activities that we thought might be of use to schools in the West Cumbria area.
As an organisation that supports older people in West Cumbria, our school activity pack will focus on the intergenerational aspects of families and communities. After almost a year of disruption, long periods of shielding and cancellation of services and activities, older people in our communities have never before experienced such isolation. We want to work to change this and are promoting the message that 'No-one should have no-one'. Our activities will look at bridging the gap between the older and the younger generations, the sharing of skills and knowledge and the benefits of interaction and connection.
Our activities are also based on the 5 standard routes to well-being so we hope that by participating, the children will also be able to improve their own mental health and well-being, an issue that we know is a worry for many parents and teachers across West Cumbria.
CONNECT: Taking the time to talk to people. Sharing a conversation. Listening to others.
BE ACTIVE: Doing something physical to get your body moving. It doesn't need to be strenuous – doing some stretches, taking the stairs, going for a walk.
TAKE NOTICE: Being aware of your environment and the people around you. Taking a new route to somewhere, taking notice of how people are acting and behaving, clearing the clutter from your home or work space.
GIVE: Being kind to others, getting involved in your local community, sharing and connecting with others.
KEEP LEARNING: Expanding your mind and watching the world around you grow. Doing a puzzle, learning a new word, watching the news or reading a book.
We have tried to make the activities simple, engaging and flexible so that you can deliver straight from the page OR adapt them to fit in with what you have planned. There will be 6 different activities to choose from, all with different learning intentions, aimed at KS1 and KS2. The activities can be delivered as stand alone tasks or you can complete all of them. And there's no timeframe – pick and mix to suit your timetable, class ability and interests.
All content is completely FREE. Download the resources here.
If you like them and they work well, we can provide extension activities and look at ways we can work more closely with your school in the future.
Competition Time!
Win £100* for your School! Plus more prizes to be won. Read below for details.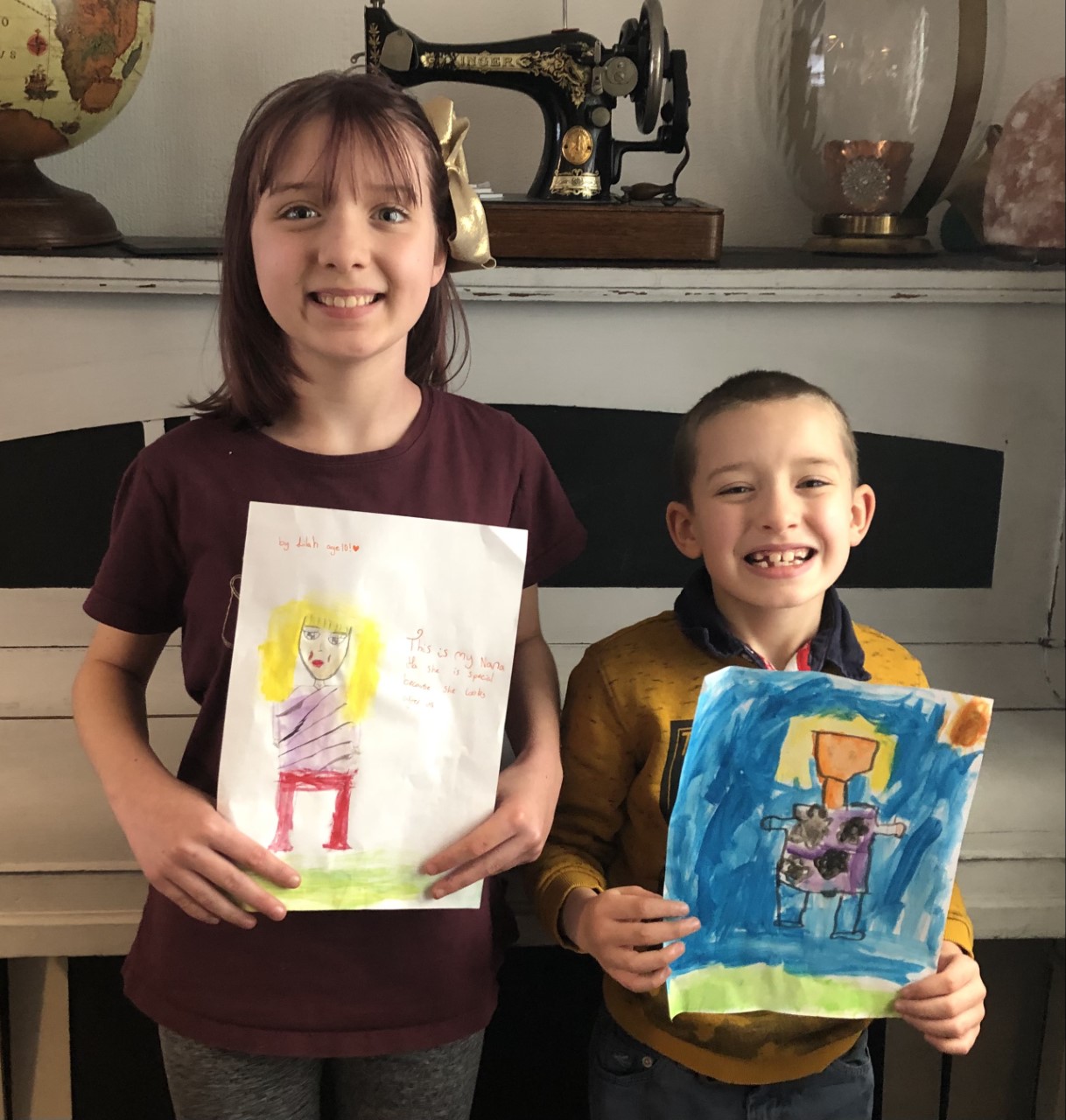 AGE UK West Cumbria has teamed up with PBP to launch a new art competition, putting older people in the spotlight.
"I am AGE UK " which is aimed at children aged 3-11 is open to all primary school children in West Cumbria and asks entrants to create a full-length picture portrait of an older person in their life who is important to them.
Marking the start of Children's Mental Health Week 2021 (which runs from 1-7 February) the competition launches on February 1st and runs until the end of March.
Five winners will be selected to receive a prize, kindly donated by Derwent Pencil Company. They will also have their portraits made into full size images which will be displayed in Age UK West Cumbria's store locations. One overall winner will also win a £100 Amazon voucher for their school. The charity has also committed to using all entries within their promotional campaign 'I AM AGE UK' to showcase the vibrancy of West Cumbria's older population.
(Left: Lilah, age 10 & Freddie, age 7 with their entries)