Age UK West Cumbria offers a free and confidential information and advice service for older people, their families and carers.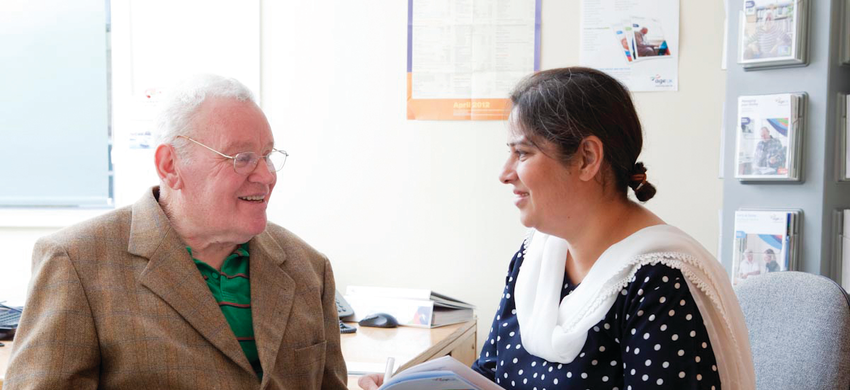 How to access the service
You can access our information and advice service in a number of ways.
By phone: 08443 843 843
By email: info@ageukwestcumbria.org.uk
At one of our local offices: click here for where to find us
Opening times:
Our information and advice officers are available Monday to Friday, 9am to 4pm.
Topics we cover:
Our advisers are trained to help you on the following topics.
Social care - such as finding a care home or getting some help at home, and how it's funded.
Your income - including free benefits checks, help with applying for benefits and pension advice.
Your home - information on staying warm at home, home adapatations and how to prevent falls.
Money Information and Advice
The Money Information and Advice service provides information, advice and support to help you maximise your income and manage your finances. The project can help with a wide range of financial issues such as accessing benefits and grants.
What the service offers
Our locally-based staff can help with a wide range of financial issues such as:
Personal budgeting
Opening / managing bank accounts
Benefit checks and claims
Care charges
Direct payments and individual budgets
Problems with bills and purchases
Low level debt advice
Applying for grants and related issues and options
Housing options e.g. equity release
Support to access help from more specialist agencies on issues such as tax, higher level debt problems, finding affordable credit etc.
We offer confidential advice over the telephone, or we can arrange an appointment with you at our office or, where appropriate, in your own home.
For more information or to make an appointment to see one of our advisors please call 08443 843 843
Trusted Assessors
We can provide home assessments and advice on daily living aids and equipment.
Trusted Assessors:
Our Trusted Assessors are trained to provide you with advice on daily living aids and equipment which can support you in your everyday life in and around your home. Our assessors can make an assessment of your home and help you identify the aids and equipment which can help you live safely and independently.
Dementia Assessors:
We have trained Dementia Assessors who can assess your home to help make your enviroment more dementia-friendly. We also provide a range of dementia-friendly equipment such as: deep-coloured crockery, orientation boards, signage to help identify different rooms and more. Our Dementia Assessors can help identify the equipment and living aids which can help you to live in a more dementia-friendly enviroment.
For more information or to make an appointment for one of our assessors to come out and see you please call 08443 843 843
Housing Options Advice
What does the service offer?
Our Housing Options Adviser will visit you at home to discuss and help you address your housing and related care needs. This might include:
Helping you to make your home more suitable for later life.Providing details of alternative housing, eg retirement, sheltered or Residential housing in Allerdale and Copeland
Providing you with the information to enable you to make a choice between different housing options
Helping you to plan and arrange the practical aspects of moving home
Linking you to advice on money matters, including benefits and equity release
Linking you to services and support to deal with other needs, eg Handyperson service, practical help at home etc
Please note we also offer our own house removals service and provide details of other local removal services
For more information or to make an appointment to see one of our advisors please call 08443 843 843
Dementia Support
Living with the experience of dementia can be challenging. Whether you have a diagnosis of dementia yourself, or are caring for a person who has a suspected or diagnosed dementia, we may be able to help you.
At Age UK West Cumbria we are developing a range of pioneering dementia services. This is in response to the individual needs and wishes of people whose lives are affected by memory concerns and the people who support them.
Support Groups
We offer support groups for over 65s with memory problems. People can attend alone or with a companion or carer to chat and participate in activities such as reminiscence, crafts and quizzes. It also provides support, information and advice on a range of issues.
Dementia Resource Boxes
Dementia Resource Boxes contain high quality dementia information and advice as well as resources for events, training talks and presentations. The Resource Boxes are available countywide and can be booked by contacting the relevant centre.
Organisations may loan the boxes for use at a specific event, individuals wishing to use the resources can only access them on site.
For a full list of resources and information on where the boxes are located, visit 'Implementing the National Dementia Strategy in Cumbria'
Dementia Home Care Environments service
A trained 'Dementia Environments' project worker will visit you at home to carry out a detailed assessment to identify simple changes that can be made to the home environment . For example, they may identify Aids and Adaptations or Modifications that can be used to improve the layout of the home environment, increase safety and comfort and reduce distress for people with Dementia. This could range from supplying supportive feeding equipment and basic signage to organising a key safe and replacement carpets/flooring.
The Allerdale Adult Social Care Team will refer clients who may benefit from receiving advice and support to an Age UK Dementia Environments assessor who will then arrange a home visit. As well as providing an assessment and assisting with the modifications to your home, the assessor can also offer guidance on applying for non-means tested improvement grants.
Dementia-Friendly Aids and Equipment
We offer a range of dementia-friendly aids and equipment at our Bradbury Independant living centre. You can try before you buy by using the equipment in a simulated environment. Some of our most popular items include: 'Dignity' ceramic crockery', orientation boards and signage
For more information please call 08443 843 843
Resources for Professionals and Carers
Our resources for care professionals aim to improve the skills and knowledge of those caring for older people. Our resources cover a wide range of topics from dementia to nutrition to falls awareness.
Enriched Opportunities 'How To Guide'
Taking you step-by-step through setting up and running activities in care settings. Based on a successful programme shown to significantly improve wellbeing. See more
Dishes in a Dash
Recipe book of easy tasty meals that can be made in 15 minutes or less – giving care workers a nutritional alternative to microwave meals. The booklet comes with an instructional DVD. See more
Kitchen Kit
For those receiving help in the home, a pack to help with shopping and food storage. Includes wipe clean essentials shopping list, fridge thermometer, informative booklet on malnutrition. See more
Domicilary Care Guide
Clear information on six key areas of wellbeing. Designed for those looking after people in their own homes this is a practical guide no carer should be without. See more
Winter Warmers
Clear information on six key areas of wellbeing. Designed for those looking After much demand we have produced a second recipe booklet, this one aimed at winter cooking and including handy tips for keeping warm. The recipes are again simple and nutritious – and very tasty! be without. See more
Happy Days Flipbook & DVD
Reminiscence , gentle chair based exercises and other activities. Short clips are useful for groups or one-to-one situations, prompting discussion and reminiscence. See more
Dignity 'Crossing the Line' Training Pack
An easy to use training pack that asks participants to discuss scenarios and decide if a dignity line has been crossed. Includes a facilitator's guide, display file, hazard tape, scenario cards and CD. See more
Shopping Guide
Essential and practical tips for shopping – for food that is healthy, tasty and easy to prepare! This guide covers a range of dietary needs, demystifies food labelling and is packed with handy information. See more
Always Event Training Pack
Following the Delivering Dignity Report (2012) this pack looks at the responsibilities of care workers, and what must always be done to deliver dignified care. See more
Dementia Friendly Care Training Pack
Similar format to the Crossing the Line Dignity Training pack but with specific dementia scenarios to look at dementia friendly care. Includes a facilitator's guide, display file, scenario cards and CD. See more
For more information please call 08443 843 843
To order any of these resources complete the order form
Call our local Helpline
Let our local Helpline point you in the right direction. One number for all your needs!
Volunteer with us
We need volunteers so we can support as many people as possible to access local services & activities!
As a volunteer you could:
Meet & greet visitors on reception & answer calls
Deal with enquiries over the phone or face to face
Provide information to help people to access services
Help people with form filling e.g. Blue Badge & Attendance Allowance forms etc.
Provide adminstration support
If you are interested in volunteering with us apply now or for more information contact us
Free booklets and online information
Age UK produces free information guides and factsheets on a wide range of topics, including home adaptations, dementia, and advice for carers. You can find a complete list of guides and factsheets on the Age UK national website.

If you prefer to read information online, the Age UK national website has information and advice on many topics, including how to find a care home, how to avoid scams, and Power of Attorney.
Other information you may find helpful
Related pages on our website