Funded Project - Joining Forces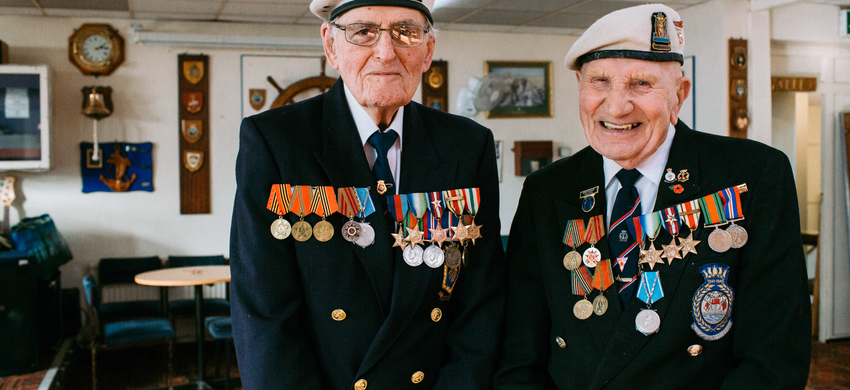 Supporting older veterans to love later life!
We have a project working with older veterans (born before 1st January 1950) as part of a wider portfolio of work being undertaked by Age UK's around the country.
The project supports older veterans to maintain their independence and stay connected and included within their local community.
We are working closely with specialist veterans' agencies such as the Royal British Legion, SSAFA and other organisations to provide support, raise awareness of the issues affecting older veterans and offer volunteering opportunities.
This service offers support with:
Information and advice regarding benefits, housing adaptations, equipment, aids to daily living, and other support
Befriending and socialising
Information on social and community activities in your area
Getting into volunteering
Linking with service friends through social media
Support to attend commemorative and reunion events
We are looking for volunteers for the project to help with:
Befriending, either by visiting or telephoning for a chat
Support for veterans to join in social activities or attend commemorative or reunion events
Running a coffee morning or social activity group
If you would be interested in volunteering apply now or for more information contact us
Joining Forces Brunch Clubs
Come along to one of our Brunch or Breakfast clubs and enjoy great food and lively conversation. Our clubs are open to all Ex-Service personnel, their family and friends.
Whitehaven Brunch Club
The Bransty Arch, Wetherspoons, Bransty Row, Whitehaven, CA28 7XE
1st Friday of each month, 10.30 - 12.30pm
Breakfast starts from £2.95
For more information contact Claire Dobson 01946 828100 or email claire.dobson@ageukwestcumbria.org.uk
Allerdale Brunch Club
Various Locations in Allerdale
Once a month, come along and meet up with other veterans like yourself, pay for your own food and enjoy brunch in good company!
If you would like to come to our next Allerdale brunch club contact Sarah Jackson 01900 844670 or email sarah.jackson@ageukwestcumbria.org.uk
Are you an older Veteran? Need some help & support?
Call our local Helpline to arrange an appointment with one of our Project Workers
This project is financed through the Aged Veterans Fund, funded by the Chancellor using LIBOR funds.
Age UK in partnership with the Ministry of Defence & SSAFA

Other information you may find helpful
Related pages on our website
Related pages on other websites