Our Twitter Takeover of the Rural Diversity Network | Age UK Cornwall
Published on 12 March 2020 02:56 PM
We took over the twitter chat run by the Cornwall Museum Partnership to discuss social isolation for the older generation, barriers to support and stories. Here's what we found out during the #TakeOver
The Rural Diversity Network Twitter Takeover
We were delighted to host the Rural Diversity Network Twitter Takeover in January 2020 following an invite by the Cornwall Museum Partnership (CMP). The topic was loneliness in the older generation. While loneliness can affect anyone at any age, from our experience, social isolation impacts a lot of older people in Cornwall.
Our aim is to empower individuals to connect with their community, and the support services and activities within them, so that they can live happy, healthy and independent lives. We were interested in opening up wider discussions around support systems and barriers, and explore the role of digital solutions in tackling this critical issue faced by Cornwall. Particularly as we, as an organisation, work to develop our services and develop our signposting database, Cornwall Link (as part of Inclusion Matters).
The questions we asked the #RDNetwork followers were:
How do we better support an ageing population?
What are the biggest barriers facing you when trying to reach your local community?
Is digital technology a good way to reduce social isolation?
Share your good and bad experience of loneliness.
We received a lot of feedback from Twitter users who shared their experiences and thoughts around these questions. Here are a few of our favourite responses from the #TakeOver:
https://twitter.com/EllieGraceRC/status/1222972409017520133
Ellie RC; One of our ambassadors Sensory Trust said at only connect 19 "I nearly died of loneliness" you could have heard a pin drop. Disconnection is real and it's those little sparks of connection in our communities that can do wonders.
https://twitter.com/annettemactavi1/status/1222974378025062400
Annette MacTavish; Digital is just a fabulous tool and I see it as enabling but not a miracle solver. The best digital projects think about our human needs first.
https://twitter.com/musecornishlife/status/1222970617646940160
Museum of Cornish Life; Loneliness sometimes feels negative and our museum has many wonderful things made and created in isolation. These stories of previous life's [sic] lived to make our current visitors feel less alone.
It was a pleasure to collaborate with Cornwall Museum Partnership on this social discussion. The work they do to provide spaces for people to explore heritage, culture and the arts is a vital part of tackling social isolation.
Lee Davies, our Marketing and Communications Lead for Age UK Cornwall and The Isles of Scilly said of the event:
"It was such a privilege to #TakeOver the Cornwall Museums Partnership (CMP) Twitter page in late January. By working together, we could reach a wider audience and highlight some of the big questions facing older individuals across Cornwall. Your compassionate responses showed just how many people want to make a difference and improve well-being in their local areas. We aim to work with many more like-minded organisations and better connect people to the Cornish community."
You can read the full write-up here at Cornwall Museum Partnership:
https://www.cornwallmuseumspartnership.org.uk/social-isolation-rdnetwork/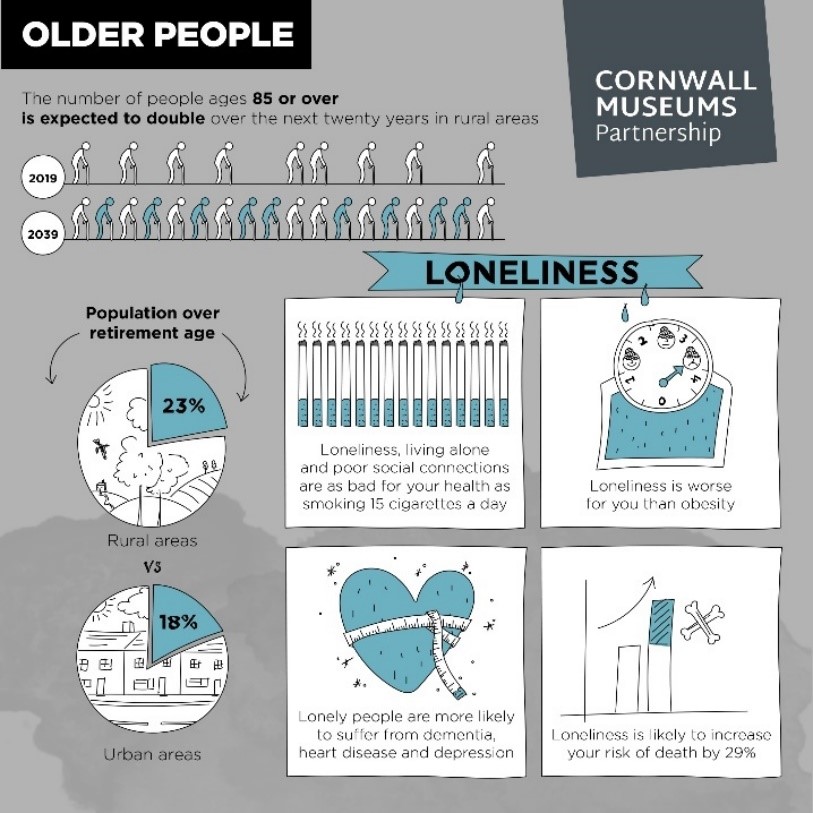 We also recommend following Cornwall Museum Partnership on Twitter and the #RDNetwork chat to keep up-to-date with all their upcoming conversations. Each month the CMP team up with other organisations to talk about important issues for Cornwall. Join in the discussion today!
If you, or someone you know, is affected by social isolation, please contact us on email@ageukcornwall.org.uk, contact the Helpline on 01872 266383 or visit the Cornwall Link to find out what services and activities you can access.