DEC Myanmar Appeal
Published on 09 October 2017 12:04 PM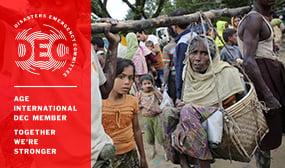 Conflict and violence in Myanmar has forced over half a million Rohingya people to flee to Bangladesh, with nothing more than the clothes on their backs.
Heavy rains are making an already catastrophic situation even worse – shelters have flooded, and the risk of illness is high. Older people are particularly vulnerable to disease.
Age International is supporting local partners to provide medical aid, clean water and sanitation.
Through mobile medical units - which are equipped with specialised health teams and essential medical supplies - our partners aim to reach those most at risk. We also want to set up latrines, and distribute clean water and hygiene kits to older people and their families.
Chris Roles, Age International's Managing Director, says: 'We have been working with our partner in Bangladesh to develop a programme to help older people who are caught up in this tragedy. Now we want to do everything we can to raise funds to provide the care and support that is so desperately needed'