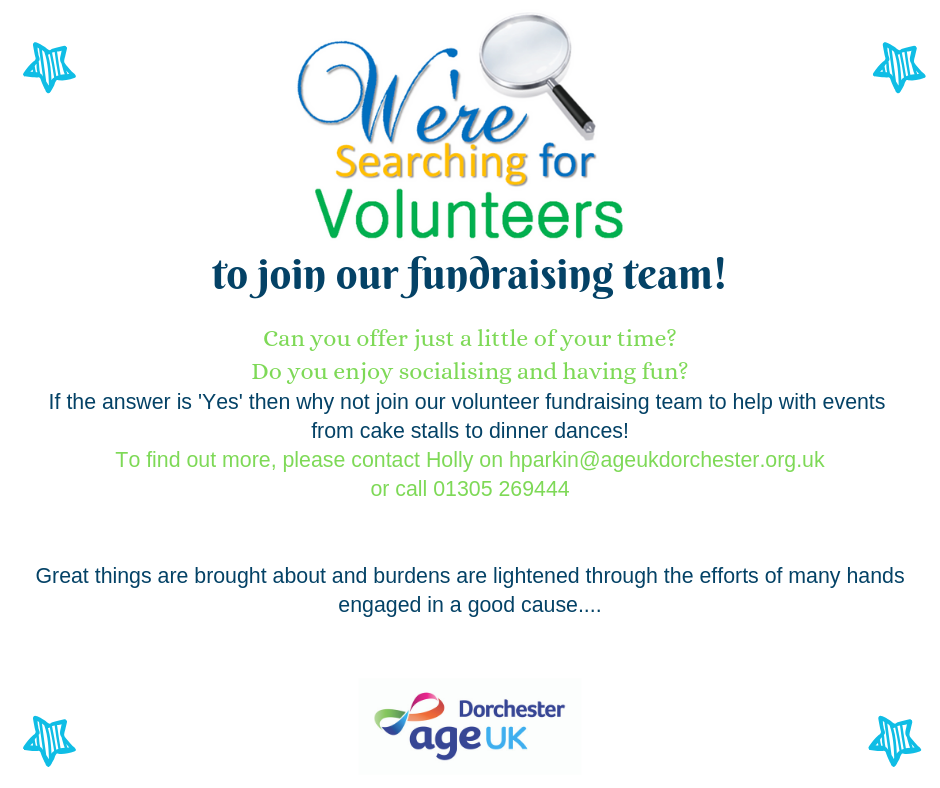 Age UK North, South & West Dorset relies on volunteers to help us offer vital services in the local community. Would you like to lend a hand?
Volunteering Roles at Age UK North, South & West Dorset
There are a wide range of volunteering opportunities on offer. Your role as a volunteer can be as varied or as simple as you wish. We appreciate that abilities, experience and interests have a role to play, and welcome volunteers from all walks of life. Each role is of equal importance to the eventual outcome to which we all strive.
To find out more about what we do you can read our "Helpful Information for New Volunteers", and when you've got a good sense of what we do you can contact us to talk about the area in which you'd like to volunteer or email hparkin@ageuknswd.org.uk.
What else can you do to support us
Whether it's fundraising, help with staffing our events, placing our collection boxes in your premises, training our staff through best practice sharing or collaborating on mutually beneficial commercial opportunities, we'd love your support.
At Age UK NSWD, we believe Dorset is a great place to live and to grow older. By working with us you have the opportunity to make a difference to the community and your colleagues.
Contact Terri or Holly for more information tlewis@ageuknswd.org.uk / hparkin@ageuknswd.org.uk


We can do this together, let's collaborate and make a difference.

We have charity shops throughout rural Dorset. Why not visit your nearest shop to bag a bargain, or have a clear out and donate something?