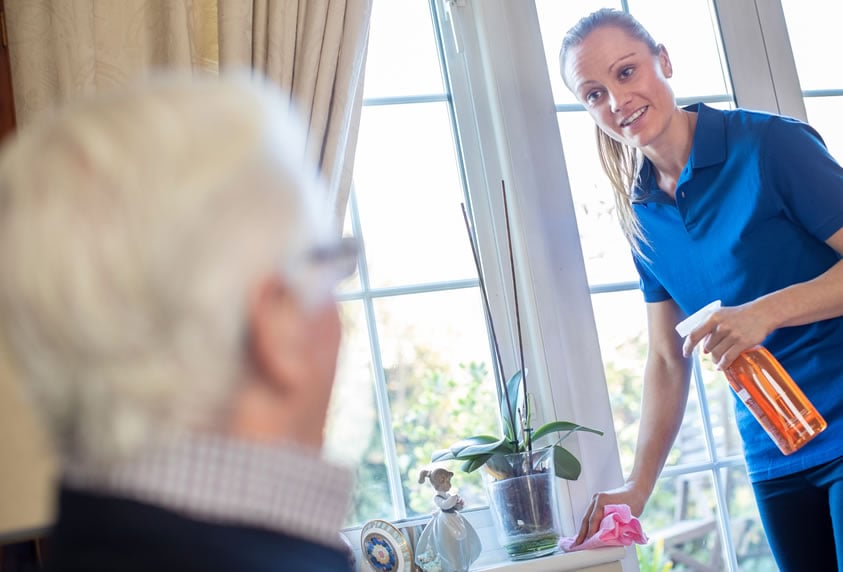 For when you need that little bit of extra help around the home.
Our home support service is here to help older people to remain independent in their own home and can include any of the following tasks:
Shopping
Cleaning (not deep cleans)
Changing beds
Washing and drying laundry using your washing machine/tumble dryer
Ironing
Odd jobs such as taking post to post box, dropping washing off to a launderette and picking up 'Click and Collect' shopping
De-cluttering
Moderate garden pruning and weeding
Mowing lawns
Unfortunately, we will not be able to clean ovens or undertake any task that involves the use of ladders.
We do not provide personal care.
Initial Assessment
We will carry out an initial assessment to ensure the service meets what you need. The charge for this is a one-off fee of £15 to cover administration and mileage costs.

Service Charges
The charge for our services is £16 per hour for shopping and gardening services, and £17 per hour for our cleaning services.

Our staff will not work beyond the agreed time without you agreeing to an extra charge.

Minimum charge is 1 hour. Additional time per 30 minutes pro-rata.

Mileage for running errands like shopping will be charged at 40p per mile for a round trip.

Missed appointments are chargeable unless cancelled 24 hours in advance.

If we have to cancel there will be no charge.

For more information or a chat about what sort of support you would like please contact Sarah Frigot or Sarah Hopcraft on tel: 01305 269444 or email: homesupportteam@ageuknswd.org.uk
We are here to provide Home Support enabling you to have that extra pair of hands around your home.