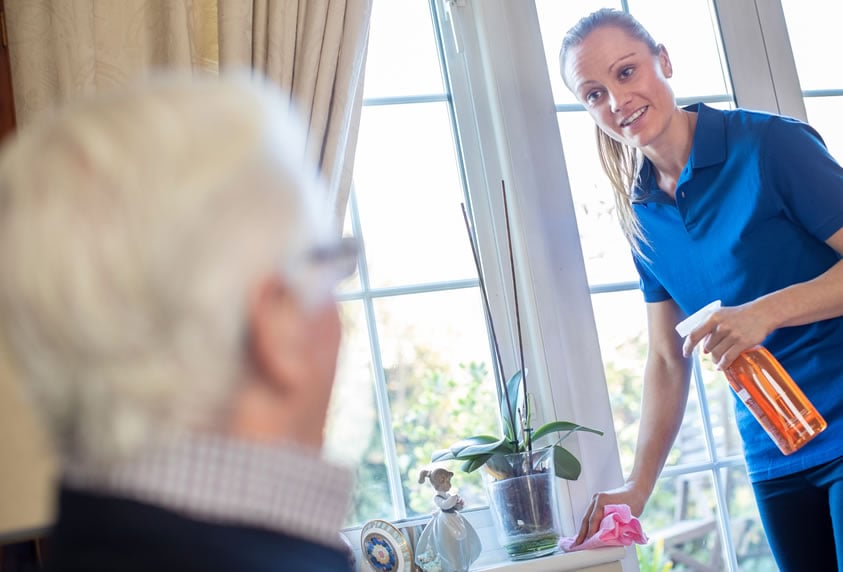 For when you need that little bit of extra help around the home.
Our home support service is here to help older people to remain independent in their own home, and we recognise that in order to stay at home there are some tasks some people need a little help with.
Our team can provide a range of services, along with social interaction and companionship.
Our clients are in control and choose the frequency of visits and the tasks performed which can include any of the following:
Shopping on the clients behalf, or collecting a 'click and collect' order.
Light domestic cleaning
Changing bed linen
Using equipment in the home, we can help with laundry and ironing
Odd jobs such as taking post to post box, dropping washing off to a launderette and other errands.
We can help with making appointments or phone calls
Basic IT support such as setting up a new tablet or computer, helping with email or navigating websites.
Moderate gardening such as pruning and weeding.
Social interaction- a friendly face, a cup of tea and a chat.
Any other general support within the home
*We do not offer personal care
All of our team have undergone full reference and enhanced CRB checks, and are fully trained and insured.
Initial Assessment
We will carry out an initial assessment to ensure the service meets what you need. The charge for this is a one-off fee of £15 to cover administration and mileage costs.

Service Charges
As we do not provide personal care, we are able to offer a much more affordable rate than many traditional support services. Our visits start from £16 per hour.
What's more, the money raised through this service helps to fund other services within your community, meaning that you'll be supporting others locally who need help with information, advice, and companionship.
All of our charges are clearly outlined before you register with us so you'll know exactly what to expect from the service and the invoice.
If for any reason we need to cancel an appointment there will be no charge to you, we simply ask that you let us know 24 hours in advance if you wish to cancel to avoid any cancellation fee.
For more information on the service please contact our Client Liaison on 01305 269444 or email clientliaisonteam@ageuknswd.org.uk who will be happy to help with any questions you may have, or send some additional material out to you.
We are here to provide Home Support enabling you to have that extra pair of hands around your home.