Age UK Reading
Age UK Reading is a small local independent charity serving the Reading Area. We have been operating in Reading since 1976 and you can read more about our history on our History page. In 2011 we joined the Age UK Federation as we felt that working in collaboration with other similar charities, would provide the best service for older people around Reading. We operate independently but utilise the brand recognition, experience and some of the resources of the national organisation to ensure that we deliver more than we could as a small charity operating alone.
Being Independent
As an independent charity, Age UK Reading is responsible for it's own finances. We are run and managed separately from the main Age UK organisation and have our own bank accounts and Board of Charity Trustees. We decide which services to provide according to the needs of our service users in Reading as we see them. As a charity we are able to apply for grants and donations from a range of charitable donors. Sadly, we do not receive a direct income from the many Age UK charity shops in Reading or donations that are made directly to Age UK – these help to fund the national organisation.
Support from the National Organisation
Although we do not receive significant funding from the national organisation, we do have a mutually supportive partnership with Age UK. They support our work through shared learning and policy development, exchange of good practice with others in the network and with expert legal advice and PR.. They produce, and refresh high quality information guides on key issues which we can access for our clients. They provide HR support, web hosting and insurance amongst other things and these provide background support for our local activity and services on the ground in Reading. We are pleased that the national organisation makes an annual grant to us and currently this is £15,000. This helps us in a small way with costs associated with accommodation, staff and volunteer training. In exchange, within this mutual arrangement, we agree to work according to high level quality standards upon which we are assessed every 3 years.
Our Funding
The funding landscape for small charities is changing rapidly and will continue to change over the coming years. Like many other local charitable services in Reading, n 2013/14 we were receiving the largest part of our income from grants from the local council and other grant making trusts.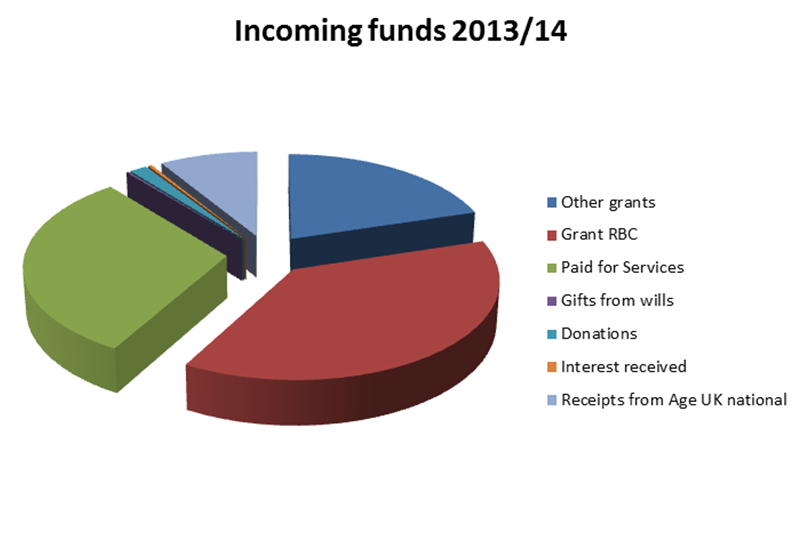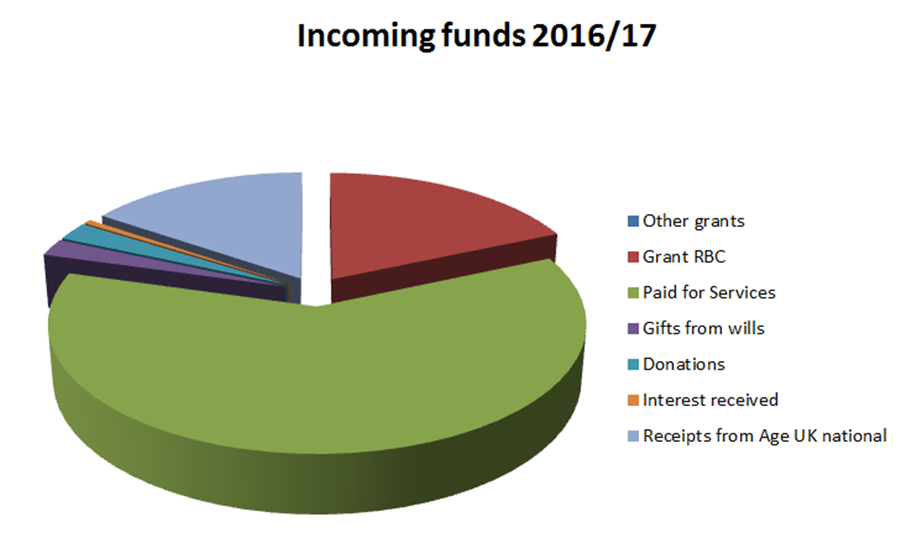 Unfortunately local authorities up and down the country have had their budgets reduced. We have had to change and adapt to this new funding climate and increase our income from other areas. Age UK Reading has worked hard to establish a new approach to finding adequate funds each year. We actively fundraise with events and have some fantastic support from a few local companies that recognise the importance of support for older people in their community. We apply for grants from independent trusts and continue to work with local statutory agencies to develop projects that can be funded even if for the short term only.
Fundraising today takes up a huge amount of time and we really do need the support of people in Reading who want to ensure this support for older people is available as we enter an increasingly difficult funding landscape. If you are interested in helping us please do get involved.