Enjoy the freedom of the skies as you take in the view in an exhilarating tandem skydive over Lincolnshire with Skydive Hibaldstow.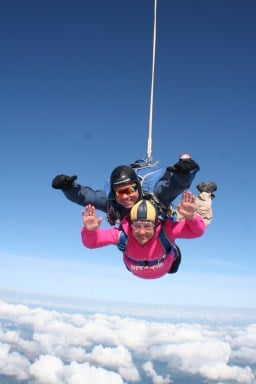 Harnessed to the front of a fully BPA qualified Tandem Parachuting Instructor, you can experience the thrill of a 120mph freefall – all in a good cause!
How much does it cost to take part?
We ask you to raise a minimum of £400 to take part in a charity tandem parachute jump. In addition, a non-refundable deposit of £75 will be required at the time of booking, with the balance payable on arrival.
When can I jump?
You can take part on any day Skydive Hibaldstow has availability. Details are on the Skydive Hibaldstow website.
Who can take part?
For your safety there are some restrictions on who can take part. Details about the restrictions for tandem parachute jumps are on the Skydive Hibaldstow website.
More information
Please read the information about charity tandem parachute jumps, costs payable, available dates and restrictions on the Skydive Hibaldstow website.
Go to the Age UK Rotherham fundraising page on the Skydive Hibaldstow website.
Don't forget to tell us about your fundraising - email fundraising@ageukrotherham.org