Dementia Day Opportunities
The service offers support in a Day Care setting which aims to assist independent living in the community for as long as possible and feature opportunities to: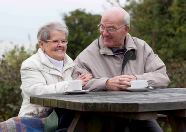 independent living in the community for as long as possible and feature opportunities to:
Help in keeping memory at optimum levels.
Socialise with others in similar circumstances.
Join in group activities and have fun.
Activities include Reminiscence Therapy, Music and Movement, Arts and Crafts.
Who Qualifies?
Anyone:
With a diagnosis of Dementia
Able to participate in activities and interact with fellow group members
Living in North Warwickshire, Nuneaton & Bedworth, Rugby Boroughs, Stratford-on-Avon District, Leamington, Kenilworth and Warwick Districts
Where and when do groups meet?
North Warwickshire
Monday and Wednesday 9.00am to 3.00pm (from 18 May15)
The Partnership Club
The Partnership Centre
Coleshill Road
Atherstone
CV9 1BN
Rugby
Monday, Tuesday, Wednesday, Thursday from 9.15am to 3.15pm
Claremont Club
The Claremont Centre
43 Clifton Road
Rugby
CV21 3QE
Nuneaton and Bedworth
Mondays 9.00am to 3.00pm
Pallet Drive Club
NCF (Nuneaton Christian Fellowship Church) Church Building
Pallet Drive
Nuneaton
CV11 6LT

Tuesdays 9.00am to 3.00pm
Poets Corner Club
20 Drayton Road
Bedworth
CV12 9EY

Wednesday and Thursday 9.00am to 3.00pm
The Mews Club
3 Manor Court Road
Nuneaton
CV11 5HU
Henley-in-Arden
* From April 2018 this service will operate on a Tuesday and Thursday instead of Monday
Monday and Thursday 9.30am to 3.30pm
Dell Court
Cherry Orchard
Henley in Arden
B95 5FW
Warwick District
Wednesday and Friday 9.30am to 3.30pm
James Court
Weston Close
Warwick
CV34 4PD
What Does it Cost?
£45 at Henley in Arden and Warwick. £36 at all other locations inclusive of lunch and refreshments. This reduces to £10 for those financially assisted by Warwickshire County Council.
Contact:
Care Administrator

Telephone: 01827 717 172 (option1)

Email :Care.Admin@ageukwarks.org.uk