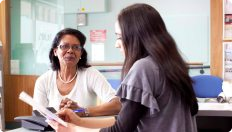 Our information and advice service is specially tailored for the needs of anyone over 50 and their friends, relatives and carers.
Our help can make the difference between just managing and really living life. We can often help you directly, and if not, we will put you in touch with someone who can.
We stock a wide range of information guides and leaflets, please feel free to call in and browse. Our friendly receptionists can often help with more straightforward queries and if you need to see an adviser, they will make an appointment for you at a convenient time.
To find out the information and support which is available to you, please download our Guide for People over 50 in Coventry. Download Guide
You can also download all advice guides, information leaflets and factsheets produced by Age UK on their website. Please see links below.
We can help you with
welfare benefits – your entitlements and filling in the forms
housing matters
health
help at home and care options
wills, power of attorney, probate
family and personal matters
leisure, social and learning activities
money matters
age discrimination
your rights to social services
most other things that affect your quality of life
Advice
To make it easier for people to access expert help and advice you can now just give us a call. Help is available every day of the year from 8am to 7pm on a local number, 024 7643 3043.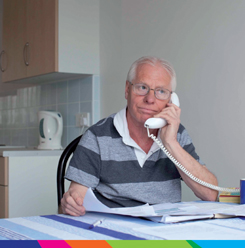 Age UK Coventry can help older people over 50 and their friends, relatives and carers on a wide range of issues.
You can rest assured that the call will remain confidential and that the advice or information provided is independent, impartial, reliable and up-to-date.
How we can help
Our team is trained to identify the information that will best answer your questions. If necessary we will direct you to to the best place to go for further support and advice.
We can help with:
Money matters
Benefits and entitlements
Health
Care options
HousingConsumer advice
And much more.
Download our advice line leaflet
You can contact the advice line by
Email: advice@ageukcoventry.org.uk
Tel: 024 7643 3043
Guide for People over 50 in Coventry
This guide gives you a comprehensive overview of the information and support which is available to you on a number of key areas including Money Matters, Support and Care, and Leisure and Learning.
Benefits Calculator
We can carry out benefit entitlement checks, and provide support in making a claim, such as filling in forms. We challenge benefit authorities by helping older people appeal or seek a review of decisions by referring on to an independent advice agency. Appointments can be made by contacting our office.
Check what you're owed - quickly and easily - with our online personalised benefits calculator.
Free Legal Advice & Will Clinics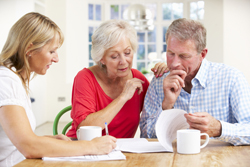 We have entered into agreements with two local solicitors, as our preferred partners, to provide free legal advice and Wills clinics to our clients, held at our offices in Alwyn House, 7 Warwick Row, Coventry. Initial advice is free of charge and our partners' solicitors will be clear with you as to the cost of instructing them if you decide to proceed.
We hold clinics with regard to general legal matters such as contractual issues, probate, inheritance disputes, immigration, employment and personal injury. We hold separate clinics dealing with issues relating to Wills and inheritance.

Contact our reception on 024 7623 1999 to discuss arranging an appointment.
You can also visit our solicitors' pages by clicking on their name below:
Specialist Help Sessions
We work with a range of professional experts who provide specialist help sessions.

Please make an appointment for one of these sessions that we host at 7 Warwick Row by calling our reception on 024 76 231 999.
Wills
Free advice or fixed-fee work.
Tuesday, 10am - 12pm.
Legal Clinic
You can attend the Solicitor's Clinic following initial advice from our adviser for free advice about general legal issues.
Alternate Wednesdays, 10am - 12pm.
Fuel Debt and Energy Advice Clinic
For information and advice about fuel debt and energy advice. This takes place every Thursday by appointment.
Talking Therapy
Are you feeling low, tearful, anxious or irritable? Are you finding it difficult to cope with normal daily living?
Talking about your problems can really help - evidence shows older people have found it really makes a difference to how they feel.
Free talking treatments are now available the first Friday of every month.
Take the first step today and find out more about talking therapies available to you. Phone 024 7623 1999 to arrange an appointment.
Free booklets and online information
Age UK produces free information guides and factsheets on a wide range of topics, including home adaptations, dementia, and advice for carers. You can find a complete list of guides and factsheets on the Age UK national website.

If you prefer to read information online, the Age UK national website has information and advice on many topics, including how to find a care home, how to avoid scams, and Power of Attorney.