Age UK Coventry & Warwickshire offers a free and confidential information and advice service for anyone over 50, their families and carers.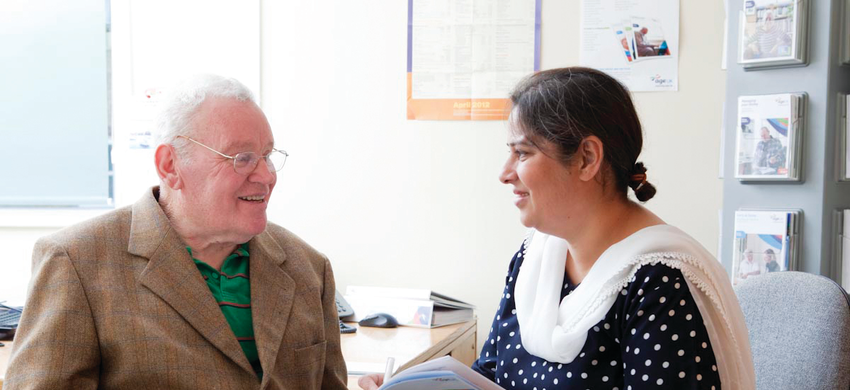 Our help can make the difference between just managing and really living life. We can often help you directly, and if not, we will put you in touch with someone who can.
How can you help me?
You can talk to one of our trained and experienced information and advice officers either on the phone or by popping into one of our centres.
Here you can chat to one of our friendly and helpful receptionists, who can often answer simple queries themselves, or arrange an appointment with an adviser if needed.
We also stock a wide range of free information guides and leaflets written for the benefit of older people.
Home visits can sometimes be arranged.
You can also download advice guides, information leaflets and factsheets on the Age UK website.
What can you help me with?
Age UK Coventry & Warwickshire always provides free, impartial information and advice. Here are some of the areas we can help with:
Welfare Benefits – Entitlement and filling in forms
Housing Options
Help at Home
Care Options
Wills, Power of Attorney and Probate
Family and Personal Matters
Leisure, Social and Learning Activities
Local Services
Money Matters
Your Rights to Social Services
Specialist help sessions
We provide specialist help sessions with the help of professional experts.
Fuel Debt and Energy Advice Clinic (Coventry residents only)

For information and advice about fuel debt and energy advice.
The session is hosted at 7 Warwick row, Coventry, CV1 1EX every Thursday by appointment only. To book an appointment please call reception on 02476 231 999
Local Age UK Coventry & Warwickshire Information Centres:
Coventry

7 Warwick Row, Coventry, CV1 1EX

Opening Times

Monday - Friday 9.30am - 4.30pm

Telephone: 02476 231 999

Rugby Borough

Claremont Centre, 43 Clifton Road, Rugby CV21 3QE. Telephone No: 01788 552542

Opening Times

Drop in: Monday - Friday 10am-1pm

Appointments: Monday - Friday 1pm-3pm

Warwick, Leamington and Kenilworth District

Head Office, 8 Clemens Street, Leamington Spa CV31 2DL Telephone: 01926 458 143

Opening Times

Drop in: Tuesday - Thursday 10am -1pm

Appointments: Tuesday - Thursday 1pm-4pm
Stratford District

Briar Croft, Alcester Road, Stratford-on-Avon, Warwickshire, CV37 6PH Telephone: 01789 205059

Opening Times

Tuesday - Thursday 10am-1pm
Useful Links
Further information on direct payments for Warwickshire residents

Find a list of other local services you can connect with

Friendly help and advice on personal tax issues that is jargon-free.
Free booklets and online information
Age UK produces free information guides and factsheets on a wide range of topics, including home adaptations, dementia, and advice for carers. You can find a complete list of guides and factsheets on the Age UK national website.

If you prefer to read information online, the Age UK national website has information and advice on many topics, including how to find a care home, how to avoid scams, and Power of Attorney.
Resource Directory
A directory, listing available clubs/groups/activities and lunch clubs within the Warwickshire area.