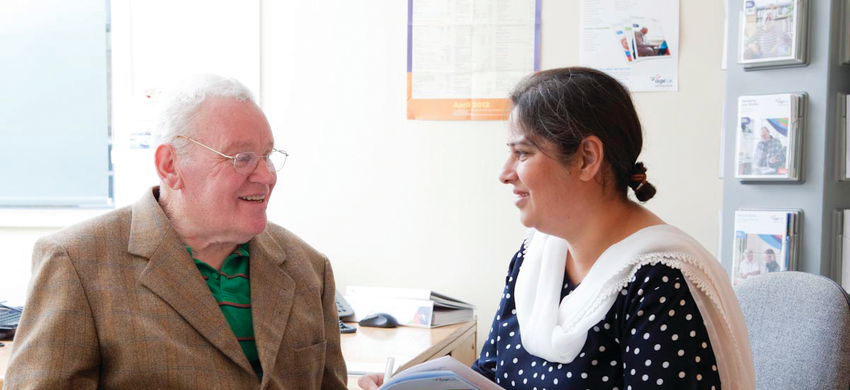 Age UK Croydon is a vibrant and successful voluntary sector charity whose aim is to promote the health, wellbeing and independence of older people who live in Croydon.
We are Age UK Croydon
We are Age UK Croydon and our vision is a Croydon where everyone can love later life.
Our mission is to lead the way in empowering, enabling, supporting and connecting older people in the London Borough of Croydon to live well, healthily and independently.
Our Five Year Strategy (2018 – 2023) continues to set the course of our work and ensures we keep our clients at the heart of what we do.
We have an expert team of around 50 staff and over 100 volunteers who work together to deliver our extensive range of services and activities right across the borough. With services spanning information and advice, health, wellbeing, falls prevention, dementia support, one to one personal independence coordinators, befriending and social activities, Age UK Croydon offers a holistic solution for older people to access the services they require in one place.
We are independent of the national Age UK charity, but have passed its quality standard allowing us to hold the Age UK brand, participate in national campaigns and add the voice of our clients to lobbying efforts, keeping older people's rights on the national agenda.
About AgeUK Croydon
We aim to ensure that the needs of all older people are best met and to promote an understanding of their contribution, independence, dignity and status within the London Borough of Croydon.

This strategy focuses on clearly articulating our vision and mission and makes clear our ambition and dedication to the older people of Croydon.

Read about the history of a small steering group of interested people from the Croydon community who started working together to create an information and advice service for older people in Croydon.
Age UK Croydon is committed to equality in all aspects of employment, volunteering opportunities and the provision of service to all clients.

Should you require any help, assistance or further information about Age UK Croydon, please click the link below to contact us.

The organisation's finances, key achievements, impact, and future plans are all presented in a clear, easy-to-read format.
About Age UK
Age UK is our national umbrella organisation and brand partner, and the UK's leading independent charitable body committed to the well being of all older people.A registered charity (number 1128267) and a company limited by guarantee, Age UK also has a separate company – Age UK Croydon Trading Limited – for our Social Enterprise Services.
Age UK undertakes to influence policy and practice and change views about ageing in order to create greater understanding about the needs of older people - both in terms of their care and the opportunities they seek to help make later life a fulfilling and enjoyable experience.
For more information, see the Age UK site.