Age UK Lewisham and Southwark enjoys an open and participative working environment.
We work to our core values of being supportive, professional and enterprising. These are reflected in the way we work with each other, our service users and through our business relationships. Teamwork, collective responsibility and delegated authority are central to this process. A key element of all roles is to develop and maintain the organisation's working ethos.
Age UK Lewisham and Southwark strives to provide a supportive working environment for all staff and volunteers, in order that they can develop personally and professionally and acquire new skills. The contribution made by staff and volunteers in achieving the organisation's goals is recognised by all.
Age UK Lewisham and Southwark is an accredited London Living Wage employer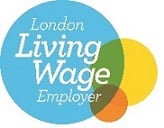 The London Living Wage is set by the Greater London Assembly, and its calculation takes into account the Joseph Rowntree Foundation Minimum Income Standard research in which members of the public identify what is needed for a minimum standard of living. This is then combined with an analysis of the actual cost of living including essentials like rent, council tax, childcare and transport to produce the London Living Wage figure.
Age UK Lewisham and Southwark is firmly committed to the principles of the Living Wage and is delighted to be accredited by the Living Wage Foundation. You can find out more about the scheme on their website.
Current Vacancies:
Ageing Well Southwark Partnership Manager
Age UK Lewisham and Southwark is recruiting a Partnership Manager to oversee the successful delivery of Ageing Well Southwark – a contract we are delivering in partnership with 5 local charities. Ageing Well Southwark – Support for Seniors and Carers is a flexible new service to help older people and their carers discover and access a range of support and community available in Southwark.
SALARY: £38,000 pro rata per annum
CONTRACT: 21 hours weekly
DAYS: Flexible Monday – Friday
LOCATION: Southwark and working from home
The closing date for applications is 9:00 am Monday 30th November 2020.
For further information, please download the recruitment pack and application documents below: