Current Vacancies
There are currently no vacancies. Do please feel free to check back here regularly, as new roles will be advertised when they become available.
Age UK Lewisham and Southwark enjoys an open and participative working environment.
We work to our core values of being supportive, professional and enterprising. These are reflected in the way we work with each other, our service users and through our business relationships. Teamwork, collective responsibility and delegated authority are central to this process. A key element of all roles is to develop and maintain the organisation's working ethos.
Age UK Lewisham and Southwark strives to provide a supportive working environment for all staff and volunteers, in order that they can develop personally and professionally and acquire new skills. The contribution made by staff and volunteers in achieving the organisation's goals is recognised by all.
Age UK Lewisham and Southwark is an accredited London Living Wage employer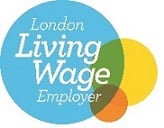 The London Living Wage is set by the Greater London Assembly, and its calculation takes into account the Joseph Rowntree Foundation Minimum Income Standard research in which members of the public identify what is needed for a minimum standard of living. This is then combined with an analysis of the actual cost of living including essentials like rent, council tax, childcare and transport to produce the London Living Wage figure.
Age UK Lewisham and Southwark is firmly committed to the principles of the Living Wage and is delighted to be accredited by the Living Wage Foundation. You can find out more about the scheme on their website.
Age UK Lewisham and Southwark is a Disability Confident employer
Disability Confident employers play a leading role in changing attitudes for the better. They're changing behaviour and cultures in their own businesses, networks and communities, and reaping the benefits of inclusive recruitment practices.
As a Disability Confident Committed Employer we have committed to:
ensure our recruitment process is inclusive and accessible
communicating and promoting vacancies
offering an interview to disabled people who meet the minimum criteria for the job
anticipating and providing reasonable adjustments as required
supporting any existing employee who acquires a disability or long term health condition, enabling them to stay in work
at least one activity that will make a difference for disabled people
Find out more about Disability Confident at: www.gov.uk/disability-confident