Volunteers are an integral part of Age UK Lewisham and Southwark.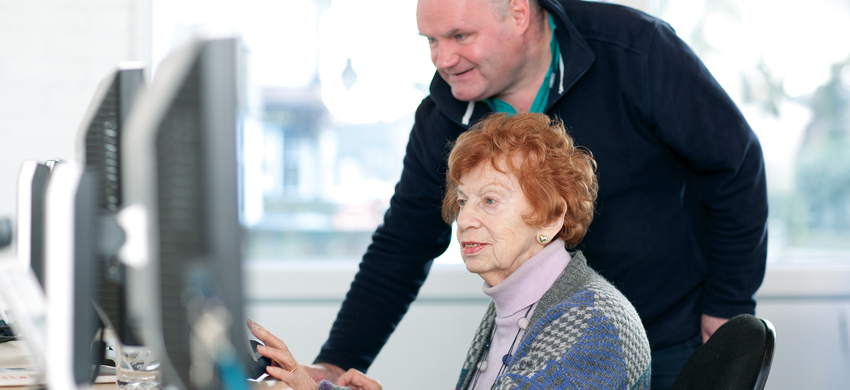 Age UK Lewisham and Southwark relies on volunteers to help us offer vital services in the local community. Would you like to lend a hand?
Highlighted volunteering opportunities with Age UK Lewisham & Southwark
We are looking for Volunteer Telephone Assessors to offer telephone advice and support to older Lewisham residents through our triage service.

We are looking for a volunteer to assist in the preparation of the daily lunches produced in the kitchen of our Healthy Living Centre.

We are looking for Activity Facilitator Volunteers to encourage men over the age of 50 to join our Menders Club and supervise workshop activities.
An exciting opportunity has opened up, to join our Finance Team as a Finance Volunteer.
We are looking for someone who is able to commit to spending their Thursdays carrying out a variety of tasks for Age UK Lewisham and Southwark, including income processing, updating spreadsheets and records, invoice coding and clerical tasks.
We are a small but friendly team, and this is a fantastic chance to gain useful experience of working in Finance for the charity sector.
Why volunteer?
Volunteering is a great way to meet new people, learn new skills, and support the work we do in the community.
Who can volunteer?
Almost anyone can be a volunteer. We have a wide range of roles which suit different people and different skills. We encourage and particularly welcome applicants over the age of 50.
How much time do I need to give?
It depends on the volunteer role you are interested in. Some people give an hour a week, other people do more.
What else you can do to support us
Other ways to help

Could you help us to raise vital funds by taking part in a fundraising event? Would you like to support us when you shop? Do you have mobile phones or printer cartridges to recycle? Click here for other ways to help!

Get your colleagues involved

Could you talk to your colleagues or your employer about how you can support us? We have lots of ideas for how organisations can get involved, including sponsoring an event, making us Charity of the Year, or donating equipment.
We have volunteers working in almost all of our services. There is a wide range of volunteering opportunities with Age UK Lewisham and Southwark available, so there is likely to be a role that will match your skills, interests and passions. We would love to welcome you to our team in a role that you will both enjoy and find hugely rewarding, and which will greatly benefit the older people we work with.
One important benefit of volunteering with us is that we provide comprehensive training and give you the opportunity to develop your skills on both a personal and professional level.
If you would like to volunteer, please contact the relevant service in which you are interested, using the links on their respective page, or see our page on Do-it to see the full range of opportunities currently available.
Contact us
Contact our volunteering department through the pink button to the right, or via post at: Stones End Centre | 11 Scovell Road | Southwark | London | SE1 1QQ | Phone: 020 7701 9700 (Monday to Friday, 9am - 5pm)