How your organisation can get involved

What are the benefits of partnering with Age UK Lewisham & Southwark?

A partnership with us could be beneficial for your business by helping you to meet your corporate social responsibility objectives. It's a great way to motivate employees and help Age UK Lewisham & Southwark to support vulnerable people in the local community. Email our CEO Ross Diamond for more information.
Age UK Lewisham and Southwark has a proven track record in developing corporate partnerships, and is very experienced at working to provide a mutually beneficial partnership that aims to reach corporate business objectives, while supporting the lives of thousands of older people in Lewisham and Southwark.
(Photo: Pool Re volunteers presenting a cheque to staff and members of our Stones End Day Centre)
How can we get involved?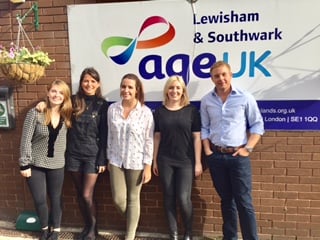 There are a number of ways your organisation can partner with us. We pride ourselves on creating bespoke partnerships tailored to you, so please get in touch to discuss the ways in which we can work with your organisation, but see below for some general ideas as to how you might be able to get involved:
(Photo: Ketchum volunteers outside our day centre, ready and raring to go)
You could:
Sponsor one of our events
Your staff could get involved in our events thoughout the year, such as our annual summer garden party. By sponsoring an event you help us with the costs, for example, food and decorations, or by providing volunteers to help out at the event, and in return do much for your corporate social responsibility and gain a uniquely rewarding experience for your staff.
Display a collection tin
Could you display a collection tin in your office or shop? This would help us to collect much needed donations to ontinue our vital work in Lewisham and Southwark.
Donate equipment
If you would like to donate a piece of equipment, we would be very grateful. This could be something to help us improve the experience of our service users, such as a new TV for our day centre, or something to help the work we do behind the scenes, such as computer equipment for our office staff.
Send employees to volunteer
Could you send a team to help out at an event or activity? It's a great way for staff to bond by working together to help vulnerable older people. Previous staff teams have served Christmas lunches, painted our day centre, and revamped our garden.
Run a fundraising event
Your employees could run their own fundraiser to help raise vital funds for our work. They could do a cake sale, dress down day, a sponsored walk or run, or a raffle. There's so many things they could do - contact us for more ideas!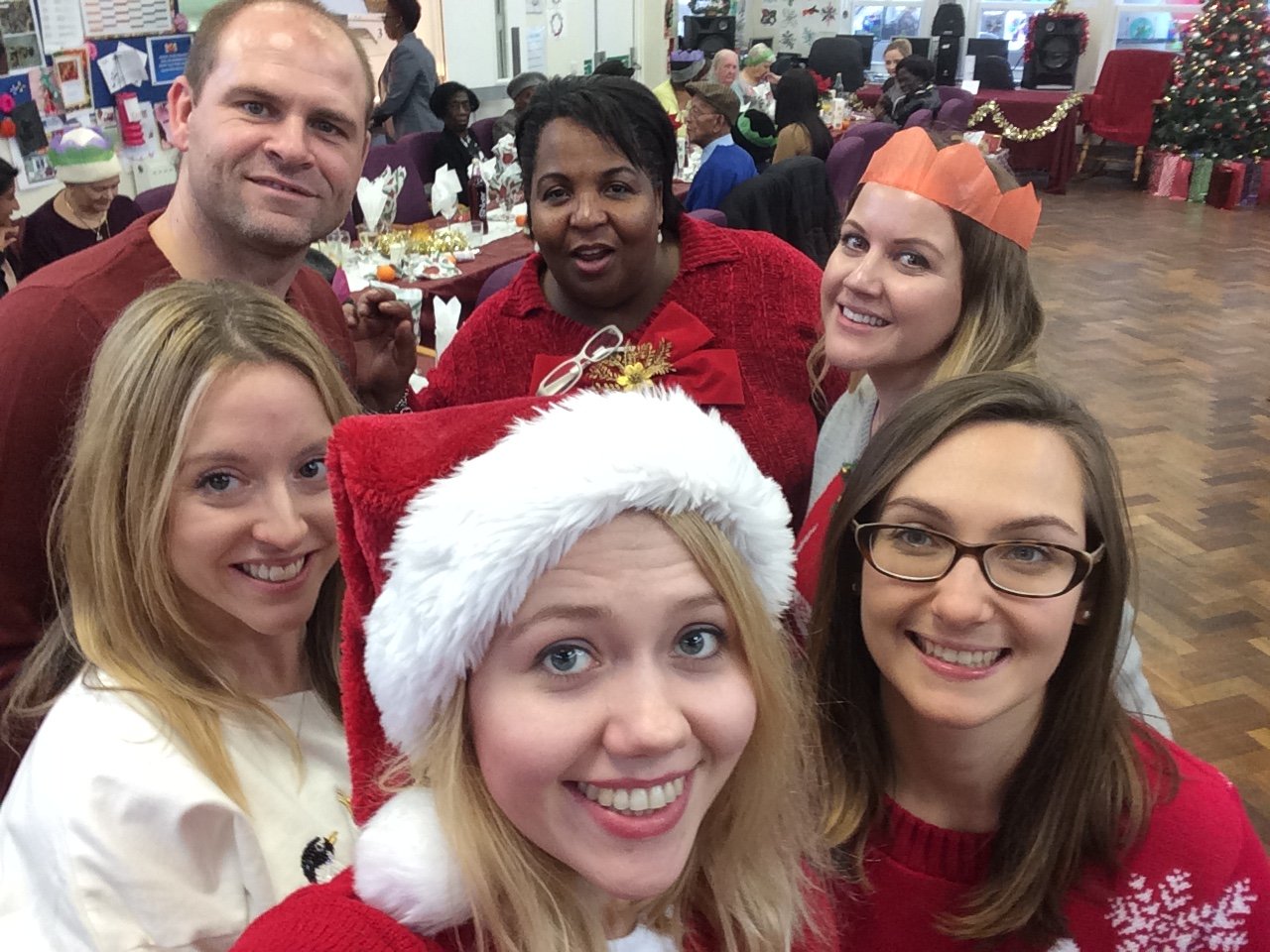 Corporate sponsor case studies
You can see a list of our current corporate partners here.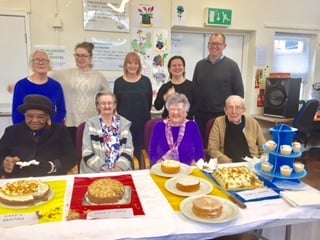 Claire Drummond, head of charitable giving at Aberdeen Asset Management said: "We have a long term relationship with Age UK Lewisham and Southwark, supporting its work to help older people lead fulfilling lives in the communities in which they reside.
"Its centre is a key resource for older people living in this part of London, providing access to a wide range of stimulating and therapeutic things to do. With an ageing population, this is important and meaningful work and we are proud at the way in which this partnership has developed over time."
(Photo: Volunteers from Aberdeen Asset Management with some of our Stones End Day Centre members for a bake sale)