Exercise and Wellbeing - Generation Games
Generation Games is Age UK Oxfordshire's physical activity service. Our aim is very simple: to help you get moving and enjoy life to the full.
It's never too late to start exercising – and it's one of the most effective ways to maintain independence and to ensure we stay steady on our feet.
With the event of coronavirus, we have had to suspend our classes that take place in community settings. Instead, we have taken many of our classes online and are running sessions via Zoom, the live online video platform. In many ways it is just like a face to face class: you will have the same teacher and the same group of people in the class each week. One or two Generation Games staff also join the session. The cost of classes is £1 less than classes previously were. We have created an easy to follow guide to getting started which has enabled many people to join a virtual class. Please get in touch with us if you are interested in joining an exercise class via Zoom.
Strength and Balance Referrals
We are still accepting Strength & Balance referrals. You would be referred to a class that is held on Zoom. Speak to your GP or health professional to find out about being referred for 6 weeks of Strength & Balance classes for free.
Other resources
Videos: We have filmed and published online videos that you can access any time on YouTube. There is a range of Strength & Balance, Tai Chi, Pilates and chair-based exercise.
DVD: We have created a home exercise DVD that contains 5 exercise sessions (3x Strength & Balance; 2 x Tai Chi). Request your free copy by emailing gg@ageukoxfordshire.org.uk.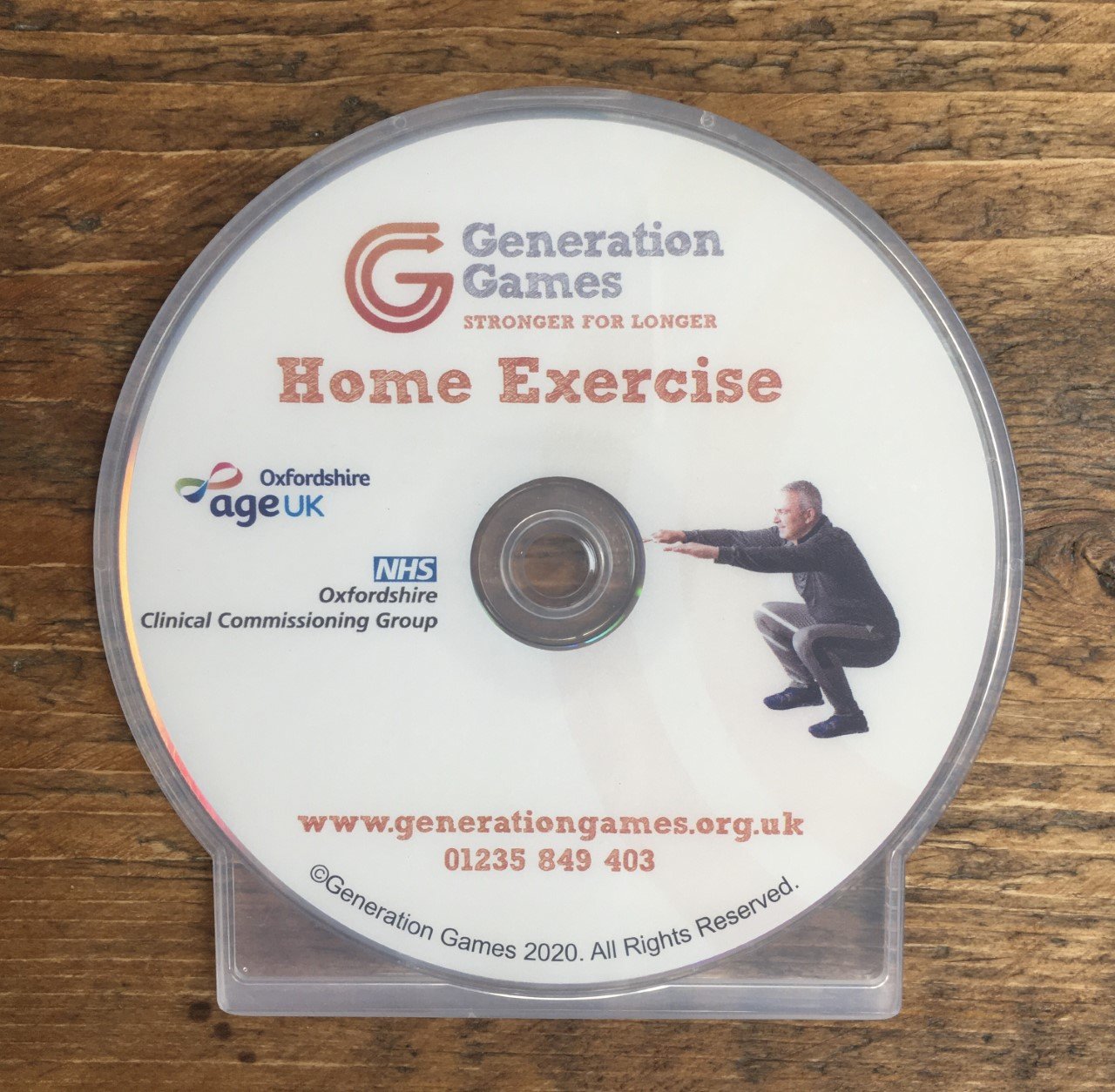 Visit the Generation Games website
Why is being fit and strong is especially important now – am I too old?
Fitness in later life is so important in enabling you to continue to do what you enjoy. Our aim is for you to be as fit and energetic as you would like to be, whether that means being flexible enough to bend easily to tie your shoelaces, strong enough to open a jar or lift a full kettle of water, or having the stamina to chase around after lively grandchildren. Especially at the moment as many of us have been far more sedentary during the coronavirus pandemic, it is extremely important to regain and maintain our fitness and strength. Accessing our classes and resources could be the first step towards a fitter you. And the best bit is that it is never too late to start.
How Generation Games works

Registering with Generation Games is easy to do and is completely free. You can either register online by visting our Generation Games website, or you can register over the phone by calling us on 01235 849 403.
Once registered you will be able to:
Receive copy of our extremely popular free 'Gentle Exercise at Home' DVD to get you started
Join a Zoom exercise class
Receive regular news, advice and updates
Strength & Balance
Simple strength, balance, flexibility and mobility is the focus for this class. Eventually some time will be spent working on practising going down and up from the floor (or kneeling). A chair is used as a support as well as a range of equipment. It is ideal for people who are worried about their balance.
Chair-Dancing: chair-based exercise to music
These classes are mainly performed sitting down and often with a short (optional) standing section to practice balance. The classes work on improving strength by using resistance bands, body weight and sometimes hand weights. Other equipment such as batons, scarves or pom poms may be used to improve coordination. Great for keeping active - especially if you are less mobile.
Big, Bold and Balance
This exercise session is aimed at people with Parkinson's and for those who want to improve their strength and balance. Chairs are used as a support and range of equipment is used. The sessions are designed to help boost your confidence, and they are also a very sociable and supportive group.
We recommend that you consult your GP before undertaking any new form of exercise, after a long period of inactivity or if you are concerned in any way.
Generation Games - Gentle Exercise at Home DVD
Get in touch
If you would like to find out more about keeping active and opportunities that are in your area:
Call us on 01235 849 403
Email us at info@generationgames.org.uk
Visit our Generation Games website www.generationgames.org.uk