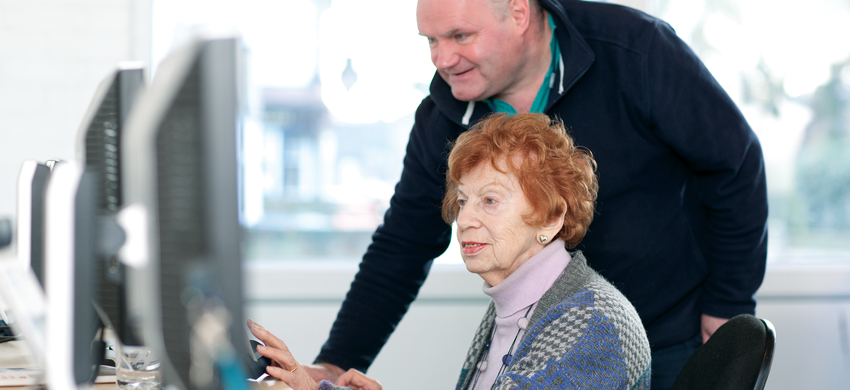 Age UK Oxfordshire relies on volunteers to help us offer vital services in the local community. Would you like to lend a hand?
Volunteering roles with Age UK Oxfordshire
Could you call a lonely older person? Help us fight loneliness in Oxfordshire by becoming a befriender.

Meet new people, help us raise funds and have fun while volunteering in our shop.

Could you help us to provide vital information and advice to older people in Oxfordshire?
Why volunteer?
Volunteers are a vital part of the work we do every day with and for older people in Oxfordshire. We have a wide range of volunteering opportunities, whether you want to make new friends, develop new skills or give something back to your local area.
You can support us and make a difference to the lives of older people, by doing anything from helping to run social groups and activities, giving someone a regular friendly phonecall, or sharing your skills in a computer training class. However you'd like to get involved, we'd love to hear from you.
Who can volunteer?
Almost anyone can be a volunteer. We have a wide range of roles which suit different people and different skills.
How much time do I need to give?
It depends on the volunteer role you are interested in. Some people give an hour a week, other people do more.
What else you can do to support us
Take part in a fundraiser

Could you help us to raise vital funds by taking part in a fundraising event? Try a Fun Run around teh beautiful Oxford University Parks. There are many opportunities in Oxfordshire all year round that enable you to set yourself a challenge and raise funds.

Could you talk to your colleagues or your employer about how you can support us? We have lots of ideas for how organisations can get involved, including sponsoring an event, making us Charity of the Year, or donating equipment.