Physical activity: Strength and Balance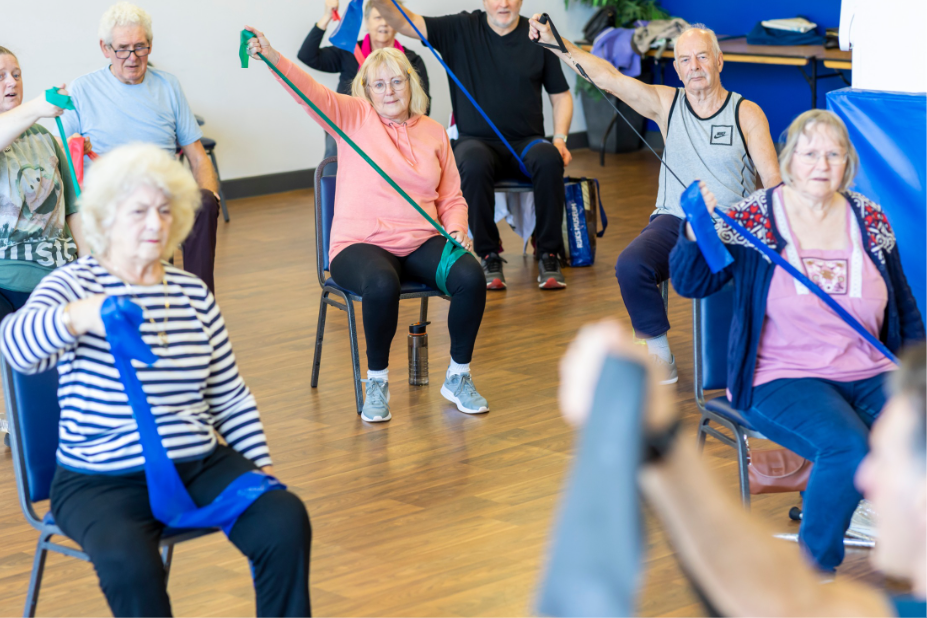 Age UK Oxfordshire
9 Napier Court
Barton Lane
Abingdon
Oxfordshire
OX14 3YT
United Kingdom
We can support you in maintaining health, mobility and independence. We have a variety of group exercise classes, both in-person and online, along with options to support you to be active at home.
Strength and balance classes can enable you to maintain health, mobility, and independence, to keep doing what you love for longer. Being active is also a great way to boost energy levels and general wellbeing.

Current participants have told us they love the social element and the opportunity to meet like-minded people, all whilst having fun and getting a little fitter.

During each class our amazing tutors will incorporate strength and resistance exercises (beneficial for muscle, bone and joint health, and help to make everyday tasks easier), along with balance exercises (to give greater confidence, improve posture and help to reduce your risk of falls).

The Strength and Balance classes include a variety of standing and seated exercises. They are available in person at locations across Oxfordshire or online via Zoom.
In Person Strength and Balance Classes
In person classes are £5 per session.

- Abingdon - Preston Road Community Centre - Thursdays 10-11am

- Bampton Village Hall - Mondays 1:30-2:30pm

- Banbury - Grimsbury Community Centre - Tuesday 1pm - 2pm

- Bicester Methodist Church – Mondays 12-1pm

- Chipping Norton Rugby Club - Tuesday - 10-11am

- Chipping Norton Town Hall - Fridays - 10 - 11am

- Deddington Windmill Community Centre - Thursday 1:30pm - 2:30pm

- Didcot Civic Centre - Wednesdays 12-1pm

- Faringdon - The Corn Exchange - Mondays 10-11am

- Henley Christ Church Centre - Wednesdays 12:45-1:45pm

- Littlemore Community Centre - Tuesdays - 10-11am

- Milton under Wychwood Village Hall - Wednesdays 11am-12pm

- Sonning Common Village Hall - Fridays 12:45-1:45pm

- Witney Congregational Church - Thursdays 1-2pm

To sign up to attend one of our Strength and Balance classes, please contact us by email or phone using the details at the top of this page.
Online Strength and Balance Classes via Zoom
Online classes are £4 per session.

- Mondays 10-11am
- Tuesdays 10-11am
- Thursdays 11am-12pm (This class includes some floor work.)
- Fridays 10:30-11:30am

You can register for online Strength and Balance classes using the following link. Once the team have processed your registration you will be emailed a booking link for the online classes you are interested in.
https://forms.office.com/e/zqrj5HW0G0
Our wider physical activity offer
We also offer a range of other exercise classes:
Seated Exercise (for those who are more comfortable seated).
https://www.ageuk.org.uk/oxfordshire/our-services/physical-activity-seated-exercise-9b4d807b-7f0b-ee11-a81c-6045bd94e88e/
Stay Strong and Steady (a free introductory course, tailored for those at risk of falling, or who have had a fall)
https://www.ageuk.org.uk/oxfordshire/our-services/physical-activity-stay-strong-and-steady-3cba42a2-780b-ee11-a81c-6045bd94e88e/
Big, Bold and Balance (for those living with Parkinson's disease)
https://www.ageuk.org.uk/oxfordshire/our-services/physical-activity-big,-bold-and-balance-78710363-7a0b-ee11-a81c-6045bd94e88e/
In addition to our exercise classes, we offer videos which enable you to exercise at a time that is convenient for you. These videos can be accessed via our YouTube channel or as DVDs which we can provide free of charge. Visit our YouTube channel using the link below or contact us on the details at the top of the page to request a DVD.
https://www.youtube.com/@AgeUKOxon/videos
Could you support us as a volunteer?
Volunteering at our physical activity classes would include supporting the exercise tutor to welcome and register participants, handling cases and helping create a friendly and sociable environment. Find out more below.
https://www.ageuk.org.uk/oxfordshire/get-involved/volunteer/physical-activity-volunteer/