Age UK Oxfordshire offers a free and confidential information and advice service for older people, their families and carers.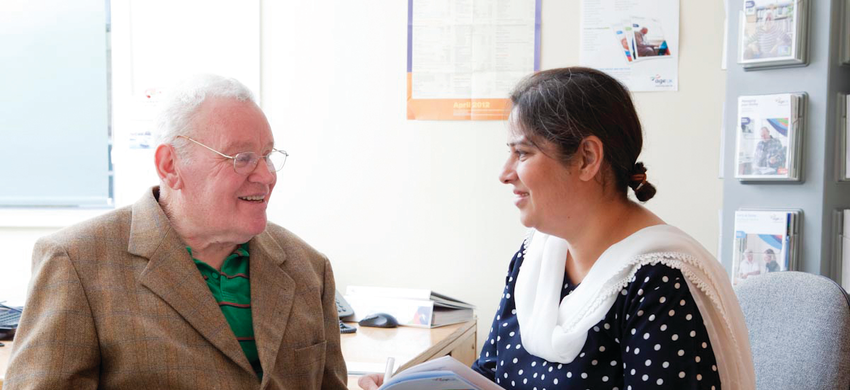 What We Do?
We're Age UK Oxfordshire and our goal is to enable older people in Oxfordshire to love later life. We believe and are passionate about affirming that your later years can be fulfilling years and whether you're on the quest to live well into old age, or if you're going through tough times, we're here to help you make a positive change.

Our Information and Advice helpline answers over 4,500 enquiries a year on a vast range of subjects, including staying independent at home, social and leisure opportunities, legal issues, financial issues, housing, care homes, being a carer - and much more.

Age UK also produces many very useful information guides and factsheets on a range of topics including; fuel, rights, wills, care homes, TV licences and just about every other issue that affects older people.
Contact us
To get in touch with our Information and Advice team call us on 0345 450 1276 and ask for the helpline, or you can email us at helpline@ageukoxfordshire.org.uk.The Information and Advice line is open 8.00am - 7.00pm daily including weekends and bank holidays, via support from Age UK's national helpline. Local and specialist advice is available from 10.00am - 4.00pm, Monday - Friday.
Specialist advice
We can provide specialist advice on the subjects below. These are areas where we have particular expertise and dedicated advisers. Click the relevant title for more information.
Benefits and entitlements
Each year, up to £3.7 billion goes unclaimed by older people. Let us help make it easier.
We helped older people in Oxfordshire receive an additional £28 million of benefits since 2001 by working with you to check your entitlement, helping you to complete claims and sorting out problems.
If you are over state pension age you may be entitled to one
of a number of benefits, including:
Attendance Allowance
Carers Allowance
Pension Credit
Housing Benefit and Council Tax Support
Some benefits are based on a person's health, physical or mental disability, others on the person's financial situation. A number of benefits are interlinked so that receipt of one benefit triggers or increases entitlement to another.
Entitlement rules can be quite complicated, and everyone's circumstances are different. It is therefore very important to get expert advice on what you may be entitled to.
Personal circumstances change as we get older: health can deteriorate, housing situations change, and bereavement can affect us all. Major life changes can bring about new entitlements to benefits, so it is particularly important that if you have recently experienced a major change in your life you find out if this has affected your entitlement to benefits.
Oxfordshire Specialist Advice Service
Age UK Oxfordshire, Citizens Advice Oxford, Citizens Advice West Oxfordshire and Oxfordshire Welfare Rights have come together to provide a free, comprehensive, independent advice service.
The service helps with queries around benefits, money advice, budgeting and other welfare issues and will link you into services that can provide further support.
The service is free for people to use. It is jointly funded by Adult Social Care and Children, Education and Families, so it is focused on meeting the needs of people living in Oxfordshire who are struggling with their day-to-day lives due to disability or ill health. However, you don't have to have a carer or anyone looking after you.
We will be able to help you if you:
Have a disability or long term illness
Have someone in your family household with a disability or long term illness
Are caring for someone with a disability or long term illness
Are a young person transitioning from children's care services
What can people expect from the service?
Oxfordshire Specialist Advice Service (OSAS) provides a dedicated telephone advice line and email service, which aims to answer all your queries around benefits, money advice, budgeting and other welfare issues and link you into services that can provide further support. This is backed up by a team of specialist advisers, who are able to meet face to face with people unable to access advice by telephone, email or in their local community.
The service also supports professionals who may be working with you, through the provision of comprehensive and responsive training opportunities and a consultancy line for specialist case support.
Please call on 01865 410 660
9am – 5pm weekdays
Or email your enquiry to:
Community care
Community Care is the term given to the help that you can get from Social Services to help you stay independent at home. This includes older people and older people as carers.
Oxfordshire County Council's Social and Community Services have to adhere to Statutory guidance and legislation when determining who receives help, what form that help takes and how much an individual has to contribute towards the help they receive.
Unsurprisingly, the relevant legislation, guidance and local implementation can be very complex, and sometimes mistakes are made.
There is different legislation and guidance for people living in care homes.
If you would like help to ensure that you get what you are entitled to or would like advice about the amount you are contributing to your care - whether you live at home or in a care home - please contact us on 0345 450 1276 and we will put you in touch with an appropriate adviser.
Protecting yourself and others from abuse
As we get older we can sometimes find ourselves in a situation where we are not being treated properly. More often than not the person involved is someone we trust. It may be a relation or someone whom we rely on to help us. This can make it very difficult to be able to do anything about the situation on our own.
Elder abuse can take a variety of forms
Abuse is an act, or a lack of action, that occurs within a relationship where there is an expectation of trust, which causes harm or distress to an older person.
Abuse can sometimes be unintentional and has come about because a carer is struggling to cope with their caring role.
Age UK Oxfordshire works alongside the Oxfordshire Multi Agency Safeguarding Adults team to ensure that older people who are vulnerable and have suffered, or are at risk of suffering, harm from abuse are supported and not left to deal with their situation alone.
If you are a member of the public and you are concerned about an adult please call Oxfordshire County Council on 0345 050 7666 or please complete this Oxfordshire County Council form.
For further information: Click here for a leaflet for the general public, or here for a leaflet for professionals
If you're just not sure about a situation and would like to talk to someone, please call us on 0345 450 1276 or you can call the national charity Hourglass helpline on 0808 808 8141 (open 9am to 5pm on weekdays).
Other useful information can be found on the Oxfordshire Safeguarding Adults website and the Hourglass (formerly named Action on Elder Abuse) website. Or via the Hourglass helpline on 0808 808 8141 (open 9am to 5pm on weekdays).
Want To Know More? Watch This Short Video...
Call our Information and Advice team on 0345 450 1276