Christmas presence 2021 - the gift of thoughtfulness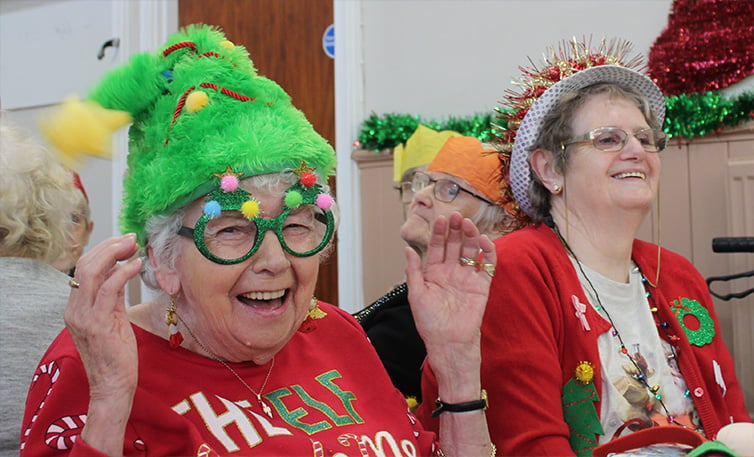 Published on 24 December 2021 11:36 AM
Our Christmas elves have been hard at work again this year spreading festive cheer among older people in Rotherham. Following the success of last year, we have once again joined Mears Group, Rotherham College and some young artists from Aston Hall Junior and Infants School to bring a little bit of Christmas joy and the gift of thoughtfulness.
Because of the pandemic, our usual annual Christmas event in 2020 was put on hold so we had to do things differently. This year, we were pleased to be able to return to Clifton Methodist Church in early December for our carol service, led by Iain Cloke, our EngAge Rotherham Development Officer. This was followed by Christmas lunch, generously donated, prepared and served by staff from Mears Group.
Around 60 older people attended the service and enjoyed the two course Christmas lunch followed by singing and lots of chat and laughter!
Iain said, 'The dining room was filled with lively chatter and many people had put on their Christmas jumpers, hats and festive facemasks for a bit of added fun. We received lots of compliments about the meal which is tribute to the team at Mears and the amount of work they put into it.'
After lunch, guests joined Jayne Price and Phoebe Taylor-Thorpe from the Carers & Co. Choir for a cheerful sing-along to classic songs such as 'Sweet Caroline' as well as some festive favourites.
Everyone also received a gift from Mears Group to take home.
Our friends at Mears still wanted to do something special for those who were unable to attend due to limited numbers and social distancing and once again offered to donate and deliver gifts to around 50 older people in Rotherham to let them know that someone is thinking about them.
Kind-hearted staff and children from Foundation Stage 2 at Aston Hall Junior and Infant School jumped at the chance to create a selection of Christmas cards and these were delivered along with the gifts.
The Christmas cards proved popular with the recipients and some sent messages of thanks to the children.
'Thank you for the lovely card I received from you. What a nice kind thought. Special thanks to Isla who signed it.' J
'Thank the children of Aston Junior and Infants School, especially Bobby, who did my card. It was very kind of them.' E
Lesley Dabell, Age UK Rotherham Chief Executive, said 'It's wonderful to see more children and the school getting involved this year. The children have put in a lot of effort and created such lovely cards - I'm sure they brought a smile to everyone who received one.'
Supermarket giant Morrisons, in Bramley, generously donated bags of chocolates which were also handed out with the Christmas gifts and cards.
We were also pleased when the community minded catering and hospitality students at Rotherham College wanted to support our Christmas activities again this year. For the second year running, the students created treat boxes filled with festive food and these were delivered to people who are isolated and receive help at home from Age UK Rotherham's Care and Support Service.
Age UK Rotherham Chief Executive Officer, Lesley Dabell said, '2021 has been another tough year for many older people. The pandemic is still with us, and people's lives continue to be affected by it every day. Many older people still experience loneliness or isolation from their families and friends, and this is especially hard for them at this time of year.
We welcome the support from Mears Group, Rotherham College, Aston Hall School, Morrisons Bramley, Carers & Co. Choir and Jennifer and Francis Lovell from Clifton Methodist Church. It's heart-warming to see that people care and want to do something for others in their communities. Thank you to everyone who's spread a little Christmas magic this year to make it all happen, again!'