EngAge Rotherham aims to listen, to respond and to support older people to be involved with others by helping them to stay safe, stop them from being lonely and isolated, stay independent, be healthy and have regular contact with other people.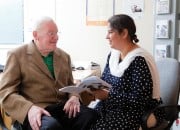 Connecting communities – helping older people to access information and support in their neighbourhoods.
Community Connectors are great listeners, compassionate people, who use their own local knowledge to help older people. Connectors are usually based in local venues known as 'hubs' at set times each week. In these sessions, connectors will listen to people's concerns and queries before providing information, helping them to choose a suitable service or referring them to Age UK Rotherham.
What does a Community Connector do?
Our community connectors provide a listening ear and help older people to find the information they need. Connectors use their local knowledge, Age UK's high quality information packs and leaflets to help people decide what they need to do. As well as helping older people directly with their local knowledge, Connectors will be able to make appointments with Age UK Rotherham Advisers and refer people to our range of services.
How do become a Community Connector?
We are currently looking for people who are great listeners, natural networkers and who are keen to be part of their local communities. Connectors will receive ongoing training and support from Age UK Rotherham to enable them to do this role. A full role description is on our volunteering page HERE.
If you are interested in becoming a Community Connector or would like more details call 01709 910 699
Where is my nearest Community Connector?
We currently have Community Connectors in Harthill, Todwick, Kiveton Park, Maltby and Dinnington. They operate alongside other regular activities in local community venues. To find out where they are this week or to invite a Community Connector to your group call 01709 910 699.
Or if you have something you need help with you can always chat with one of our Advisers on 01709 835 214