EngAge Rotherham aims to listen, to respond and to support older people to be involved with others by helping them to stay safe, stop them from being lonely and isolated, stay independent, be healthy and have regular contact with other people.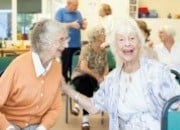 EngAge Groups are set up in local communities by people who live locally and provide the kind of activities that people in that area want to do.
The groups aim to keep people socially active while having fun and doing activities which can help improve mental, physical and social wellbeing. Groups offer a variety of activities from quizzes, crafts and games to Boccia and New Age Kurling or even just having a good natter over a cuppa.
Age UK Rotherham staff do not currently run the EngAge Rotherham groups shown below. They are led by volunteers in the community and are supported by Age UK Rotherham. For details of your nearest group see the table below.
Cost varies between groups but all are kept to a minimum and are under £5 per session. Session costs do not always include any refreshments or extras such as raffle tickets.
The groups are not able to provide one to one assistance to attend the group and you must be able to participate independently or bring someone who can fully support you while you're there. If you're unable to do this our Social Centre may be more suitable for you as this may provide the extra support you need.
Please call us on 01709 910 699 before attending any of the groups to make sure that they have places available. We can also advise you about the best group for your needs.
AM
PM
Monday
Maltby Redwood Centre, Redwood Drive S66 8DL 10.30am to 12.30pm
Tuesday
Swallownest - Central Methodist Church, Lodge Lane S26 2BP 10.30am to 12.30pm (in partnership with Mutual Support)
Wednesday
Thursday
Maltby - Community Building, Bevan Crescent, Maltby S66 8AN 10.00am to 12.30pm
Friday

Wales and Kiveton Village Hall, Walesmoor Avenue, Kiveton Park S26 5RF
10am to 12 noon

Thorpe Hesley - Trinity Community Centre, Sough Hall Avenue, S61 2QP 1.30pm to 3.30pm
Friday
Brinsworth - Brinsworth Community Hall, Brinsworth Lane S60 5BU 10am to 12 noon
Todwick Church Hall, Lindleys Croft, S26 1HN. 2pm to 4pm
Activities include:

Arts and crafts
Giant 'four in a row' and other super sized games
Reminiscence
Singing
Music
Discussions
Computer skills
Quizzes and puzzles
Board games and cards
Walking
Swimming
Chair based exercises
Literacy - reading/writing
Fruit tasting
Lawn sports - bowls, boccia, kurling
Karaoke

Contact us
If you are interested in joining a group, want to volunteer or for more information contact the EngAge Rotherham team on 01709 910 699