Age UK South Gloucestershire is providing support for older people living with dementia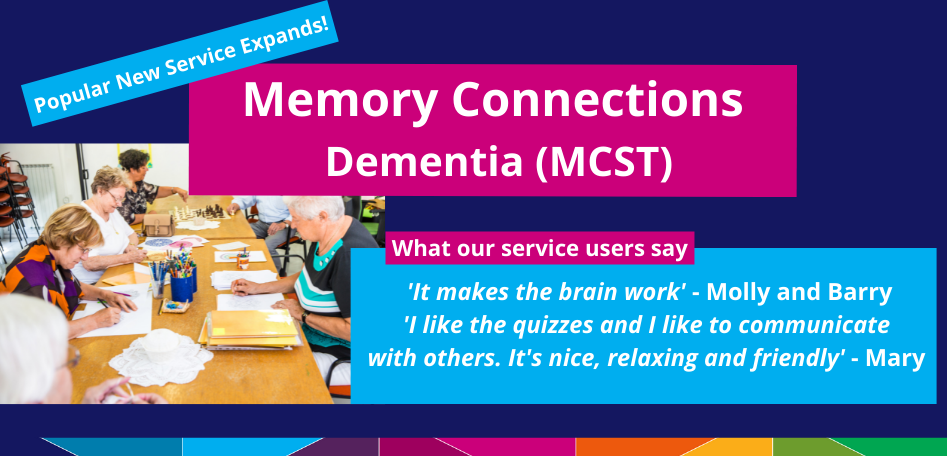 Published on 15 October 2021 02:32 PM
Age UK South Gloucestershire is encouraging older people living with dementia in the South Gloucestershire area to join Memory Connections, its specialist Dementia Maintenance Cognitive Stimulation group to help provide support and improve their wellbeing through a range of activities.
Maintenance Cognitive Stimulation Therapy is the only non-drug treatment recommended to improve memory and thought processes, independence and well-being by the National Institute for Health and Care Excellence (NICE).
The group sessions are designed for older people with mild to moderate dementia (with or without a formal diagnosis) and involve a range of fun and interactive activities such as games, music, art, cooking and exercise classes. As well as helping with memory and mental activity, such as thoughts, emotions and behaviour, the sessions also give older people the chance to meet and socialise with people who are also living with dementia.
Monica Ehresmann our MCST Facilitator at Age UK South Gloucestershire said: "Our sessions are now open and we're welcoming local people living with dementia, and their carers, to come along to meet us and try out our activities. The sessions offer expert help and support, and not only are the activities involved fun and interactive, but we also hope people can build friendships along the way."
The Memory Connections course takes place on Monday between 2 pm and 4pm at The Park Centre in Kingswood and due to popular demand, we have introduced a second session on Wednesday's between 10 am and 12 pm at The Winterbourne Community Centre.
To sign up or find out more, please contact us today via email: msct@ageuksouthglos.org.uk or give us a call on: 01454 411707 (option 5)