Have you had your Covid 19 booster vaccine and your flu jab?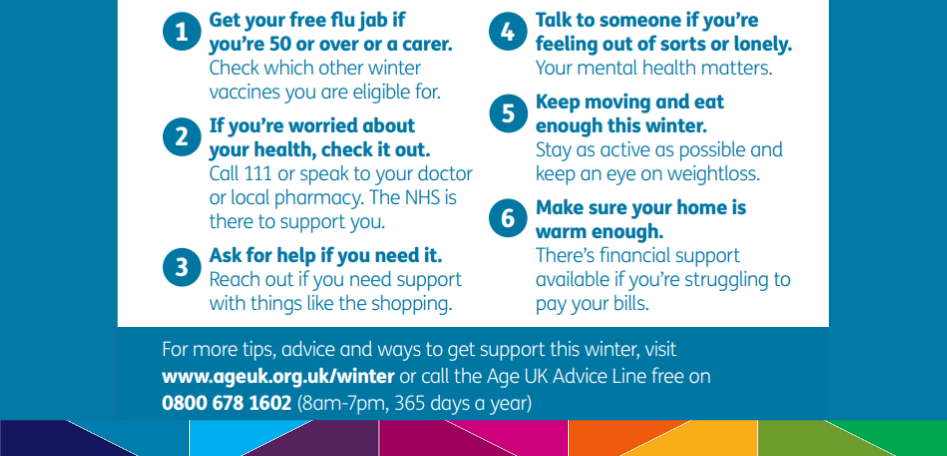 Published on 01 December 2021 09:57 AM
Wherever possible, Age UK South Gloucestershire is urging all older people to have both the Covid 19 booster vaccine and the flu jab this winter to help them stay fit and well.

Adults at high risk from flu are often most at risk of becoming very ill with COVID-19 too, and both can be serious illnesses. Each year on average 11,000 people in England die of flu, and in 2017/18 Public Health England estimated that the figure reached a staggering 22,000 deaths, the highest death toll in recent years.

Last year cases of flu were unusually low due to the pandemic restrictions, but experts expect flu to return as a significant risk this winter as restrictions have eased. This makes it vital that older people protect themselves by having the vaccinations that are offered to them.

Age UK's latest nationally representative sample survey of 1,598 people aged 60+ in the UK shows that the intention among older people to have both the flu and covid booster vaccinations is positive with:
• 78% of adults aged 60+ intending to get the flu vaccination this winter.
There is similar positivity among those intending to have the Covid booster vaccination with:
• 80% of older adults aged 60+ believing the Covid booster vaccination will give them greater protection against Covid-19.

Last winter in South Gloucestershire 83.10% of people aged 65 and over had the flu vaccination, exceeding the WHO recommended target of 75%.
Everyone aged 50+ is eligible for a free flu vaccine and Covid-19 booster vaccination this winter and this year it is more important than ever that people take up the offer when it comes. You need to wait 5 months from your second Covid-19 vaccination before you can get your booster, but you can get your flu jab at any time it is offered, and you may also be able to pop in or book it at your local pharmacy. It is also safe to get both vaccines at the same time if you are offered them.


Age UK South Gloucestershire, said: "Our advice to older people is that if you only do one thing to protect your health this autumn please do take up the offer of a COVID booster and a flu jab when it comes your way. It's perfectly safe to have them together, and often more convenient too, so if that's what you are offered please do accept – you'll be doing yourself a lot of good and helping to protect everyone else you come into contact with too."


Age UK's myth buster can dispel some of the misunderstandings surrounding the flu vaccination:
Myth Buster – 7 things you might not have realised about the Flu and Covid-19
1.The flu is worse than having a heavy cold
Flu kills - flu is much worse than a heavy cold. While some people will get the flu and recover others will get complications caused by flu and become seriously ill and have to go to hospital.
2. The flu vaccine does not give you flu
It is impossible to get the flu from the adult vaccination as it doesn't contain the live virus. It takes two weeks from being vaccinated to it becoming fully effective, so it is important to get it as soon as possible.
3. Vaccination side effects are likely to be mild
Risk of a serious side effect from having winter vaccines is very low. For the most part, the side effects are mild, and short-lived. Most common is experiencing soreness around the site of the injection and aching muscles.
4. There are more places to get vaccines now than ever before
GP surgeries, some community pharmacies such as ones in supermarkets provide the adult flu vaccination.
5. You can get the flu or Covid-19 vaccine if you aren't feeling your best.
If you have a minor illness like a cold you are ok to book in your flu vaccine, but it is recommended that you wait until significant illness or fever have passed before having the jab.
6. The flu and Covid-19 vaccines are different and protect against different illnesses
It's important to get both vaccinations this winter as one will not protect you against both illnesses. It is also possible to have both vaccinations at the same time.
7. For the most protection from Covid-19 this winter's Covid-19 booster vaccine is important
The first two doses of the Covid-19 vaccination were crucial in reducing your risk of severe illness and death from Covid-19. However, over time, as with many vaccines, the immunity imparted declines so to keep yourself safe this winter getting the booster vaccine is really important.
8. The Covid-19 booster vaccine can be of a different type to your first doses
The Pfizer vaccine has been recommended as the best vaccine to get for your Covid-19 booster, irrespective of which vaccine you had for your first two doses.