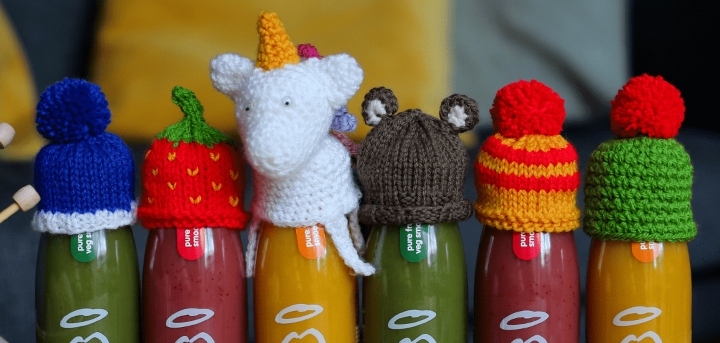 It's June and we've reached 40,000 little hats ... that's 10,000 to go before the end of July! Keep knitting!
Big Knit 2019: Ready, Steady, Knit!
We're delighted to announce the Big Knit is back! So grab your needles and your brightest yarn and get knitting for Age UK Wiltshire to help us be there for older people who have no one else to turn to.
We need your help to reach our target of knitting 50,000 little hats.
For every hat knitted, we receive 25p. That means £12,500 which will go directly towards providing support to local older people who have no one else to turn to.
There are some patterns to download below or you can be as creative as you like and come up with your own - nothing is too wild or wonderful, as long as they fit on an innocent smoothie bottle.
Send us your hats by 31st July 2019.
Top Hats

Check out some of the amazingly creative hats knitted by fabulous supporters of Age UK from around the country.

Keep Knitting!

We still need loads more little knitted hats to reach our 50,000 target.

Keep knitting!
Looking for patterns? Download them here: