How Age Concern Croydon became Age UK Croydon.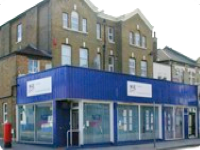 A small steering group of interested people from the Croydon community started working together to create an information and advice service for older people in Croydon, and in November 1995 opened an office in London Road as Croydon Council on Ageing. This location gave easy access to those living in the densely populated North of the Borough in particular.
The organisation started with two full time staff, part time administration support and two volunteers, and progressed to opening three days a week meeting clients and taking telephone enquiries as a strong volunteer workforce was rapidly built up.
Later renamed Age Concern Croydon, we continued to grow dramatically. In November 2009 a second office was opended in Katharine Street, central Croydon (opposite the Town Hall and Clocktower), and in July 2010 we became Age UK Croydon, in partnership with the national Age UK charity.
Towards the end of 2010 we were approached by the board of the Thornton Heath Darby & Joan Club with a view to merging the two organisations. A formal merger took place in November 2011, and the Darby & Joan Club premises in Brigstock Road became our Thornton Heath office. In May 2012 our London Road office was closed, and most of the services that had been provided from there were moved to Brigstock Road, with the adjoining Scratchley Community Hall which continuing to run a variety of activities and social events.
Age UK Croydon continues to expand and develop. As of 2016, it has been working directly with the NHS as part of the One Croydon.
Services are delivered from Thornton Heath and our office in Park Street, Central Croydon, as well as an ever growing number of outreach venues delivering services in all wards of the borough. However, if you would like to tell us about other services you would like us to provide, please contact us on:
Tel: 020 8680 5450
Fax: 020 8288 9229
Email: aukc@ageukcroydon.org.uk