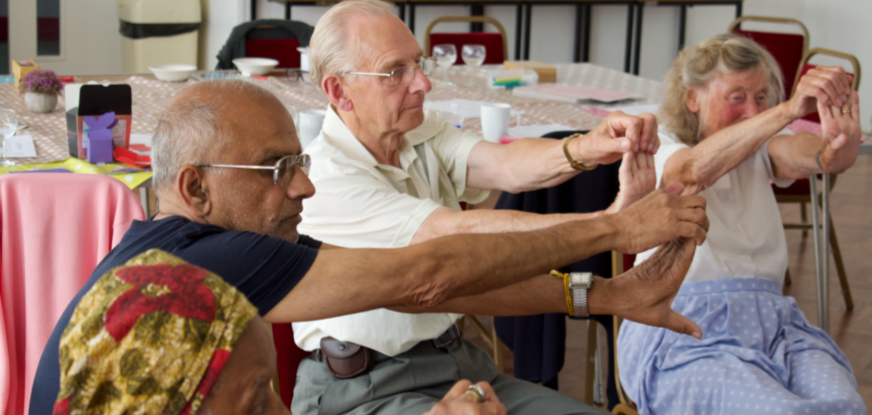 Let us help you to improve your health and wellbeing with our Healthier Lifestyle project!
It is important to maintain health and wellbeing as we get older, and our Healthier Lifestyles service takes a holistic approach, looking at physical, mental and social health, focusing on support for older people.
For further details please contact our Helpline on 020 8686 0066, or email the Healthier Lifestyles service at healthierlifestyles@ageukcroydon.org.uk
Contact the team if assistance is needed for online access, or see our handy Zoom instructions
Join our Chair-Based Exercise sessions to get fit and have fun!

Seated exercises (with optional standing)
A focus on muscle strength
Improve or maintain aerobic fitness and mobility
Resistance band and instructions provided

Just4Men is an exercise class - Just for Men! Led by our friendly specialist exercise instructor

A standing exercise class for men
Partners can join if assistance is required
Increase muscle strength
Improve mobility and balance
Resistance band provided
For people who experience joint pain

Explore different ways to exercise
Weekly discussion topic and input
Meet and chat with others who experience joint pain

Gentle online exercise session

Gentle movement
Recude stress and anxiety
Feel revitalised
Join our Healthier Lifestyles team for a Strength & Balance class, to get fit and have fun!

Standing exercises
Improve mobility, strength, aerobic fitness & balance
Resistance band and instructions provided

Do you love literature? Are you passionate about poetry?

Join our reading group, run by The Reader and led by one of their Reader Leaders, who will read aloud before leading the group to share their thoughts, feelings, and memories.
Healthier Lifestyles Activities
To join any of our Healthier Lifestyles Activities, please see our Activities Diary for more information