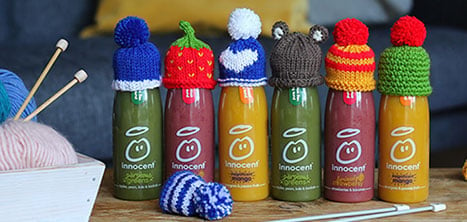 What is the Big Knit?
Every year, we ask you to knit tiny woollen hats, and each one gets placed on an innocent smoothie bottle.
For each hat you knit we will receive 25p, these hats will then be sold on innocent smoothie bottles throughout the UK.
How to Join In
Choose a pattern
To take part why not download one of the patterns below, or create your own! If you would prefer a pattern by post please get in touch and we will arrange for the pattern to be sent.
Here are some of The Big Knit little hat patterns to print at home.
You can find more patterns on the Age UK website - or feel free to create your own patterns! We love seeing all the different designs.
Knit Away - send us your hats
Pop your hats in the post to us.
We'd love to send you a thank you for your hats. If you would like to receive a thank you and updates on all thing Big Knit, include your name, address and contact details so that we can thank you.