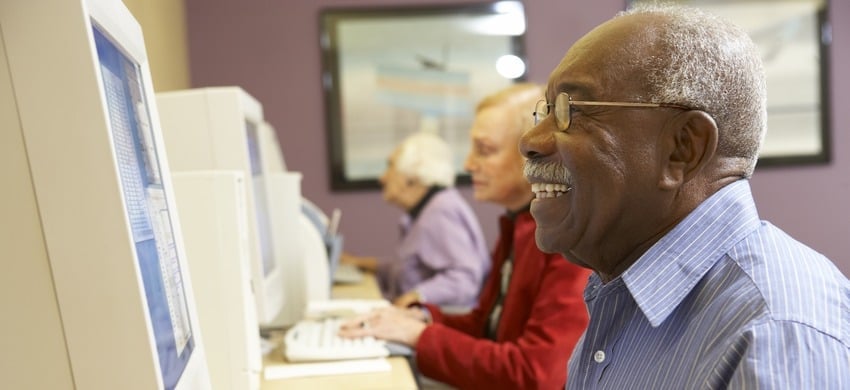 Age Cymru Gwent is a great place to work. Could you bring your skills to our team? See our latest vacancies below.
Working for Age Cymru Gwent
Are you looking for a career where you can be part of an organisation that really makes a difference to people's lives?
Come and join us!
We have 40+ years' experience in care in the community. We believe in dignity and respect at all levels – in our care of our service users and our relationships with our co-workers, funders and corporate partners. If you are looking for a career in the care sector our track record is second to none -we actively train and develop our staff and encourage them to progress – most of our team leaders and service managers have been promoted from front line work to management, through hard work, commitment and training.
We reward our staff with competitive rates of pay, 25 days' holiday a year plus bank holidays and an excellent contributory pension scheme which we encourage all our staff to join – not just the higher earners. We offer regular professional supervision and support. We have a variety of working patterns on offer – part time, full time, weekday and weekend work, and bank work by arrangement with your manager to suit your commitments.
In return we expect the best from you – commitment to the job, respect for your colleagues and service users and a real desire to make a difference to the lives of our service users.
If there are no current vacancies that suit you listed below, please take a look at the other ways you can get involved with us.
To apply for any of these vacancies please complete the application form attached and return it, by the relevant closing date, to
or Age Cymru Gwent, 12 Baneswell Road, Newport NP20 4BP.
Please complete a separate application form for each vacancy you are interested in.
Thank you.
Age Cymru Gwent Current Vacancies
DEVELOPMENT AND WELLBEING CO-ORDINATOR

TITLE OF POST: Development and Wellbeing Co-Ordinator

SALARY: £9.67 per hour

HOURS: 16 hours per week

BASE: Nevill Hall Hospital

This role is an exciting community based role that involves developing self - sustainable clubs for older people. The projects aim is to improve an individuals wellbeing and develop social engagement.

You will need to have experience working with and understanding the needs of older people, excellent communication skills and an understanding of GDPR.

You will need a full UK driving license and use of a vehicle for work purposes and a D1 License to drive the organisation minibus.

Closing date: 30th April 2021

HOSPITAL DISCHARGE SERVICE SUPPORT WORKER

TITLE OF POST: Support Worker (Hospital Discharge Service)

BASE: 1 Vacancy Nevill Hall Hospital

1 Vacancy in St Woolos Hospital

HOURS: 16 hours per week

SALARY: £9.15 per hour

The role is to provide advice and information, emotional and practical support to older people in Monmouthshire and Torfaen area. The role includes benefit checks, signposting, shopping support and light domestic.

Full UK driving license and use of a vehicle for work purposes is required.

Please specify preferred base on application form.

Closing date: 30th April 2021

CARE FACILITATOR

JOB DESCRIPTION

TITLE OF POST Care Facilitator – Integrated Older Persons Pathway

REPORTS TO Team Leader

SALARY SCP 18 £9.76 / hr

HOURS 20 hours per week

BASE FOR WORK St Woolos Hospital

JOB PURPOSE

To provide a high standard of practical support and encouragement during the review process, to meet patient's needs and to implement an effective staying well plan.

You will be required to hold a UK driving license and have access to a vehicle for work purposes.

Closing date: 30th April 2021