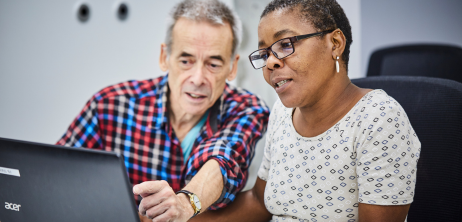 Please note, this service is not available outside Age UK East London - Head Office's catchment area.
Age UK East London
82 Russia Lane
Bethnal Green
LONDON
Greater London
E2 9LU
United Kingdom
Learn essential digital life skills and become more confident online. You can learn online, in person and in a group.
Learn One-on-One with our Digital Buddies
Do you want to learn how to get connected online or want to know what Zoom is, but don't have the internet or a digital device?

We will match you to a trained and vetted volunteer, who will be able to assist you with using your digital device, getting online and also learning further with technology today via weekly telephone/Zoom calls. (Limited Tablet devices and data SIM cards are available to loan, subject to a Loan Agreement).

You can learn how to join virtual activities, email friends and family and even video call them via Zoom, all with tailored support and within the comfort of your own home.

If you are aged 50+ and want to start your digital journey, loan a device or just find out more, then please contact one of our Digital Engagement Officers:

Linessa: linessa.ollivierre@ageukeastlondon.org.uk Tel: 020 8981 7124
Learn Online
Age UK East London are working with Systems & Smiles to deliver digital accesibility workshops to our clients over the coming months. These workshops are open to everyone and it is free to register.

Systems & Smiles will be delivering Zoom workshops on a range of topics which include safe online shopping, using your phone camera and understanding Android. These two-hour sessions will help you learn some essential digital basics and improve your confidence using technology and being online.

All you need is a computer or tablet, access to Zoom and an internet connection.

You can register for the events here:
https://systemsandsmiles.com/events
Come along to one of our Digital Drop-ins
Join one of our digital drop-ins every Wednesday at Caxton Hall 10-1 where one of our trained volunteers can answer your questions and help with your devices.
View our online resources below to help you navigate the internet, pay bills and stay safe online
Cash and Other Payment Methods
https://www.ageuk.org.uk/bp-assets/globalassets/east-london/original-blocks/our-services/di/cash-and-other-payments.pdf
Staying Safe Online
https://www.ageuk.org.uk/bp-assets/globalassets/east-london/original-blocks/our-services/di/sraying-sfae.pdf
Paying Bills and Switching Providers
https://www.ageuk.org.uk/bp-assets/globalassets/east-london/original-blocks/get-involved/volunteer/digital-leaflet--3.pdf