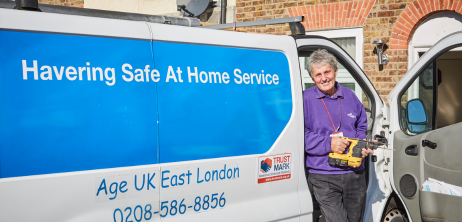 Please note, this service is not available outside Age UK East London - Head Office's catchment area.
London Borough of Havering
Town Hall
Main Road
Romford
RM1 3BB
United Kingdom
In Havering only - Age UK East London can help to improve security, increase safety and prepare the home for hospital discharge.
Havering Safe at Home Service is funded by the London Borough of Havering
Referrals for this service are through professional routes which include health and social care, voluntary sector, lunch clubs, Police and London Ambulance Service (LAS)
Age UK East London provides a comprehensive service which delivers:
- Basic Target Hardening
Which aims to reduce crime and the fear of crime amongst older people by providing advice on home security e.g. window locks, door locks etc. The service user group is for older people aged 60+ or vulnerable people who have been a victim of crime. Priority will be given to those who live on their own, frail elderly and at risk of crime or accident.

- Sanctuary Service
This service is in addition to the Basic Target Hardening and aims to make it possible for victims of domestic violence and/or hate crime to remain safe in their homes.

- Minor Adaptations without Delay
This service identifies a range of minor adaptations e.g. fitting of stair or grab rails, and adaptions needed to aid hospital discharge.