Carers Week 2022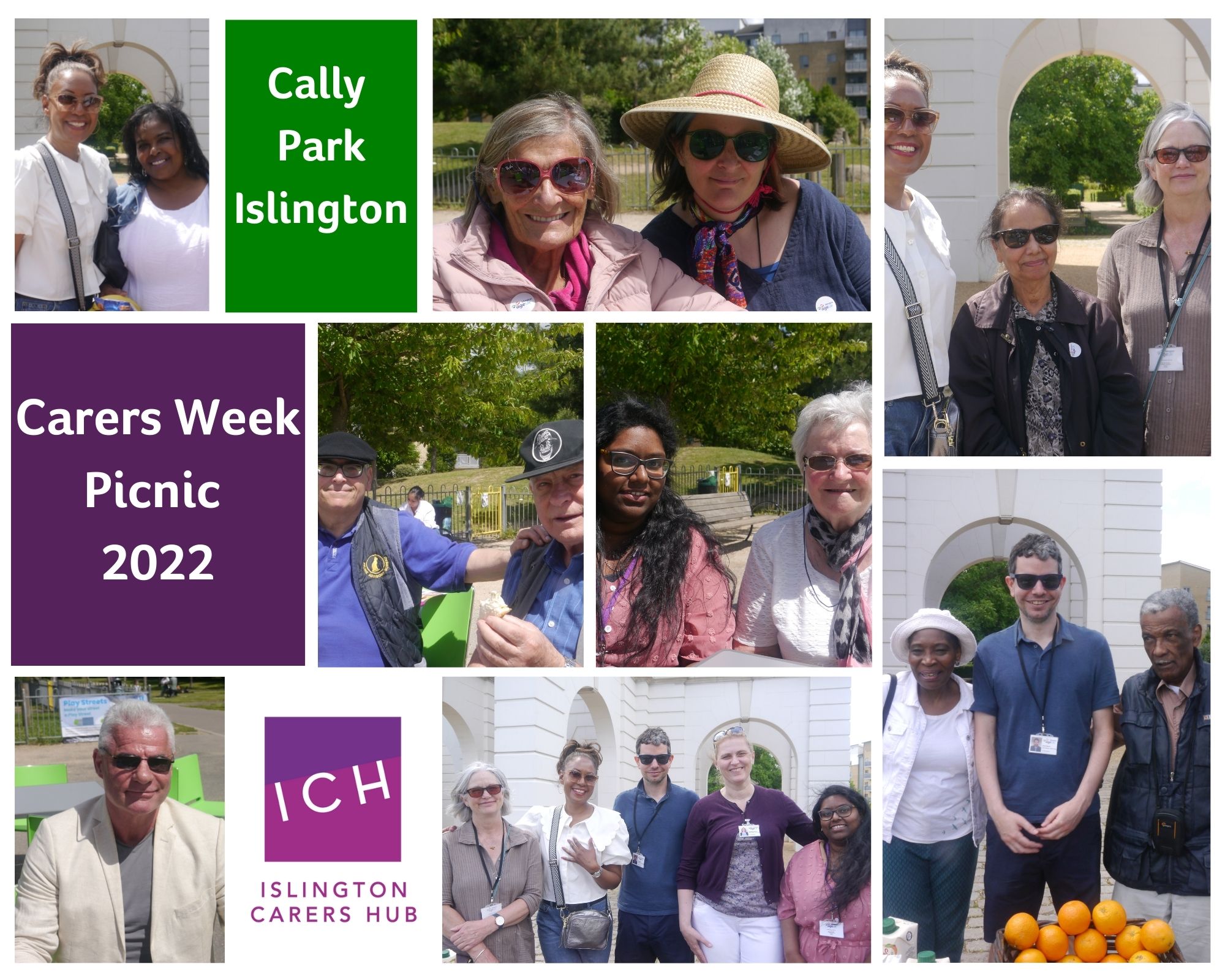 Published on 04 July 2022 01:37 PM
Islington Carers Hub and its partners hosted a week of events during Carers Week 2022 across Islington (7-13 June), bringing together some of Islington's hidden army of unpaid carers. Partners included Centre 404, St Luke's and the Stress Project.
Unpaid carers provide regular support and care to a friend or family member. It could be that the friend or family member needs support because they're older, have a disability, long-term health condition or an addiction.
One of the aims of the week was to bring together carers, so they can develop their own support network and share experiences. Talking to carers attending some of the Carers Week events highlighted that carers have so much experience and expertise that they've developed over the years in their caring role. It was also a celebration of the contribution that carers make.
An Islington carer, attending one of the sessions, said: "I still give an enormous amount to my two adult children to help them contend with 'invisible' disabilities. I have learned that for my own mental wellbeing and self-preservation I need to be able to create space for myself within my caring role. Knowing that at times I have the right to close my door, is very simple, but important. I find that attending wellbeing sessions including those during Carers Week really helpful to re-centre myself amongst the demands of caring."
Another carer who attended the Carers Picnic during Carers Week, reported that as a carer of 23 years, she has learnt how important it is has been to "Take the time to understand my mother-in-law, finding her passion and the twinkle in her eyes before the onset of the mental illness sixty years ago…Not knowing anything about how to manage mental illness was really challenging but I have learnt a lot, little-by-little adapting to the role".
Caring can be a hugely rewarding experience but carers often find it challenging to take care of their own wellbeing whilst also fulfilling their caring duties. Islington Carers Hub wants to help to change this.
Many carers struggle financially. This could be because they have to reduce their working hours or stop working altogether to look after the person they are caring for.
A carer reflected on the difference that a direct payment made to them, which they received following a need identified in their carer's assessment. "Without this, I wouldn't be able to afford things that are important to maintain my own wellbeing. It means that I can go to the gym, or to the cinema once a month. It can mean that I can feel a sense of normality in being able to afford a coffee like everyone else when I go out with my friends."
Islington Carers Hub, working closely with and funded by Islington Council, is a vital source of help, providing a range of information, reassurance and sometimes just a listening ear. Practical advice about benefits, tackling debt and emotional support are just some of the issues the Hub's caseworkers deal with every day.
Contacting Islington Carers Hub
Whether you are new to your caring role or have been a carer for a while contact Islington Carers Hub on 020 7281 6018 / 3319 or see their website: www.islingtoncarershub.org