Our Advice Workers provide older people with quality assured Information, Advice and Guidance across both Lewisham and Southwark.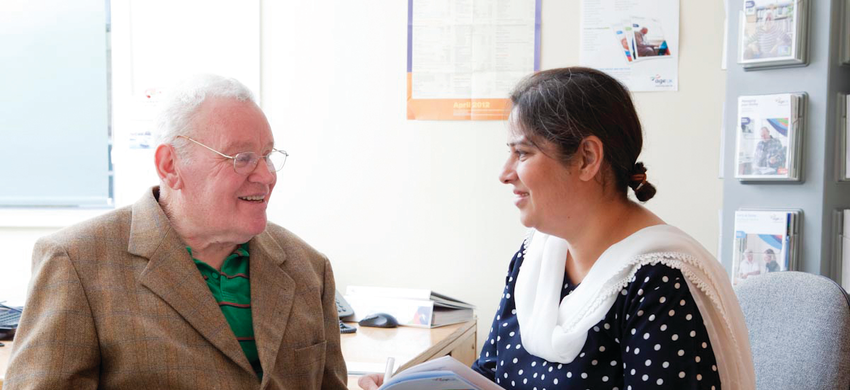 We decrease financial hardship, improve living conditions and support older people to ensure their rights are upheld. We can provide advice through home visits, office appointments, drop-in sessions and over the telephone.

We assist with a wide range of issues including:
Welfare Benefits - checks and applications

Housing issues

Community Care

Utilities and other consumer issues

Accessing Transport

Signposting and identifying suitable support on legal matters, debt and immigration issues
Southwark Services
If you are over 65 and living in Southwark you can drop-in to either of our Southwark Information Hubs:
Tuesday 10:00am - 12:30pm

Stones End Day Centre, 11 Scovell Road, London, SE1 1QQ

Friday 10:00am - 12:30pm

Yalding Healthy Living Centre, 95 Southwark Park Road, London, SE16 3TY

To make an appointment or home visit, please contact us:

Telephone no: 020 7358 4077 Email: sail@ageuklands.org.uk
Lewisham Services
If you are over 60 and living in Lewisham you can drop-in to our Lewisham Information Hub:
Tuesday 10:00am - 12:30pm
111 Randlesdown Road, London, SE6 3HB
For a telephone assessment or to make a referral for a home visit or office appointment, please contact us:
Lewisham Advice Line* No: 0800 231 5453
Lewisham SAIL Connections™ No: 020 7358 4077
Email: sailconnections@ageuklands.org.uk
*We are proud members of the Advice Lewisham Consortium, and deliver our advice in Lewisham as part of this collaboration: you can visit their website here

Our service provides free, confidential and non-judgemental advice in a person-centred way. We hold the Advice Quality Standard, which assures the quality and accuracy of the information and advice we provide.
Free booklets and online information
Age UK produces free information guides and factsheets on a wide range of topics, including home adaptations, dementia, and advice for carers. You can find a complete list of guides and factsheets on the Age UK national website.

If you prefer to read information online, the Age UK national website has information and advice on many topics, including how to find a care home, how to avoid scams, and Power of Attorney. You can reach the website by following the link below.
Download our Southwark leaflet
You can download our Information and Advice leaflet for more information on our Southwark Service.