Lewisham S.A.I.L. Connections™ provides a quick and simple way to access a wide range of local services to support older people in maintaining their independence, safety and wellbeing.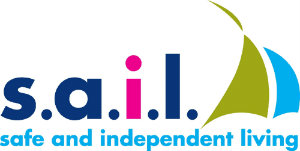 Anyone can make a S.A.I.L. referral by simply answering the yes/no questions on the checklist below. Age UK Lewisham and Southwark, working in partnership with local S.A.I.L. agencies, will coordinate and monitor the response.
The checklist enables access to a wide range of support services which improve:
• Health and well-being
• Mental resilience
• Isolation and social exclusion
• Financial inclusion
• Fire safety and wider home security issues
• Safeguarding concerns
• Personal safety and security
Lewisham S.A.I.L. Connections™ is available to Lewisham residents over the age of 60.
See details of the exciting first year of our Lewisham S.A.I.L. Connections™ service by downloading our S.A.I.L. Connections Pilot Evaluation 2016-2018 here [PDF, 2MB].
Who to contact:
Lewisham S.A.I.L. Connections™
Jordan O'Shea
Lewisham S.A.I.L. Connections Manager
sailconnections@ageuklands.org.uk
Address: Stones End Day Centre, 11 Scovell Road, London, SE1 1QQ
Tel: 020 7358 4077
New S.A.I.L. Microsite!
You can visit our S.A.I.L. microsite to find out more about the service. You can now also make online referrals directly from the microsite!
Refer to S.A.I.L.
There are a number of ways you can refer to us:
Online - Visit our online microsite linked below to fill out a referral online
Via Email -
Download Lewisham S.A.I.L. Connections™ form
Here you can download a S.A.I.L. form (checklist) for Lewisham, plus an explanatory postcard.