Final call to dig out those knitting needles for the innocent Big Knit and help older people in Manchester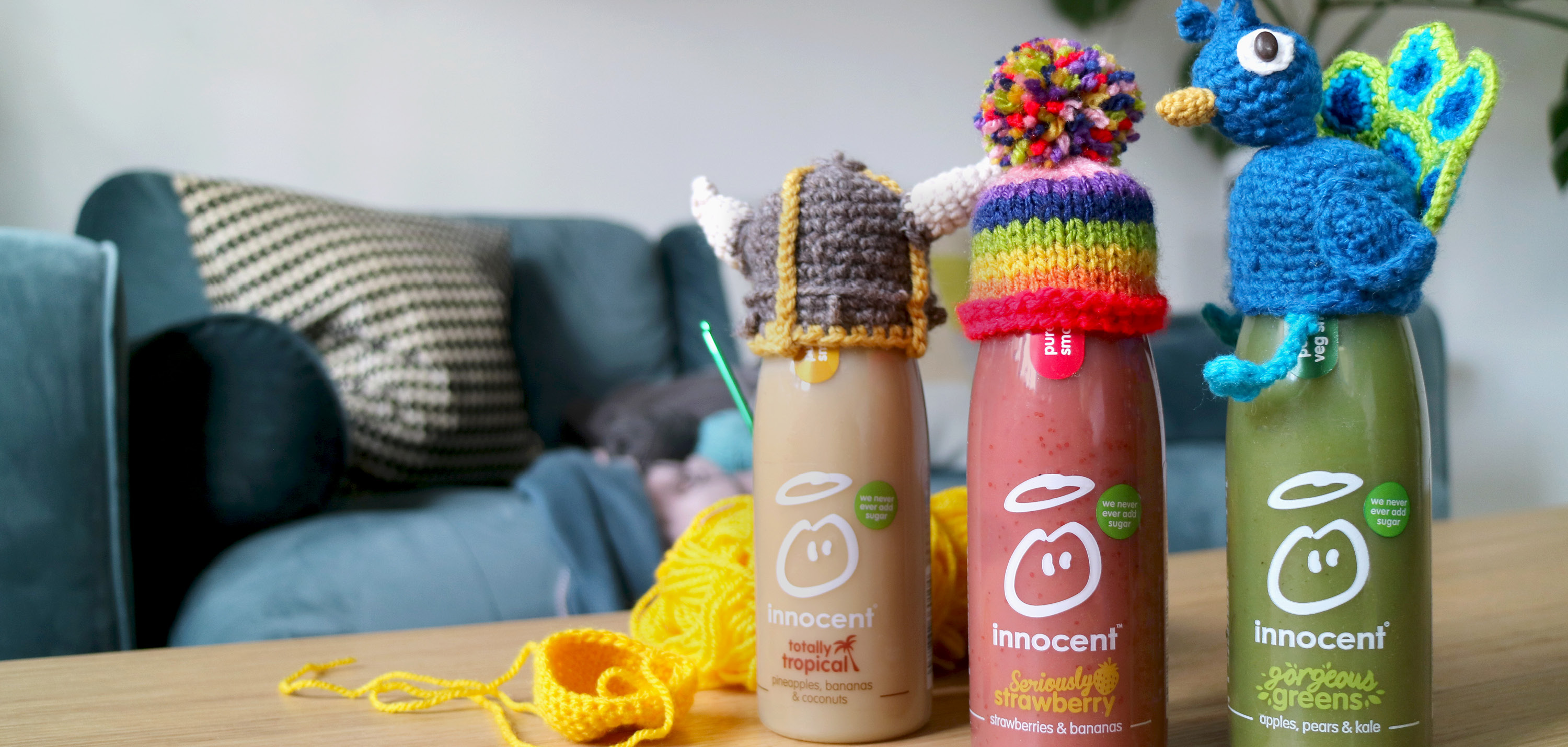 Published on 20 May 2022 12:47 PM
Age UK needs the woolly warriors of Manchester to get their knitting needles out and craft as many little hats as possible by 30th June 2022 for the innocent Big Knit campaign.
Each little hat will be matched with an innocent smoothie bottle, which will go on sale from October 2022. For every be-hatted smoothie sold, 25p will go to Age UK, helping to make a huge difference to the lives of older people.
Older people are facing a very challenging time with the rising cost of living, particularly the increase in energy prices, with those most vulnerable struggling to make ends meet. Age UK Manchester's services have been a lifeline to older people most in need in the local area, and every knitted hat will help to raise vital funds for the Charity so it can continue to help older people who have no one to turn to.
Sally Dervan, Chief Officer of Age UK Manchester said: "Whether you're a knitting ninja, a purling pro or just keen to have a go, we need the people of Manchester to join us for the final push of this year's innocent Big Knit campaign and help us to knit as many little hats as possible before the 30th June.
"The money raised from these little hats will make a huge difference to older people in our area who need our support. Every hat knitted will help to fund our vital services, including groups, clubs and activities as well as our Advice and Counselling Services, all of which have seen an increase in interest and demand in the last 12 months."
Jad Marie, innocent drinks, said: "After a really hard couple of years, we want to make this campaign as big as possible so we can help more older people than ever, so please do grab your knitting needles and get crafting! We're incredibly grateful to all the heroic volunteers who have helped us so far."
For more information on the innocent Big Knit contact Rebecca from Age UK Manchester on 0161 437 0717. Please send completed hats to Age UK Manchester at Crossacres Resource Centre, 1 Peel Hall Road, Wythenshawe M22 5DG.
There are exciting hat designs, including a cheeky monkey, fox cub, sheepish sheep and a unicorn, available to download now. To find out more visit: www.ageuk.org.uk/bigknit or www.thebigknit.co.uk/knittingpatterns
-ENDS-
REF: STKCDSLCSKCA
Notes to editors
About innocent
Launched in 1999, innocent is Europe's favourite little healthy drinks brand. We sell natural, healthy products – smoothies in little and big bottles; smoothies and juice for kids; a refreshing range of not-from-concentrate juice and coconut water, a dairy-free range and bubbles: our lightly sparkling fruit juices.
We became a B Corp back in 2018 – an independent validation of what we've always believed in. We joined a movement of businesses around the world that are committed to being a force for good. And doing business in a way which is better for the planet, and the people living on it.
We donate 10% of profits to charity, mainly to the innocent foundation, which supports charities working all over the world so that they can help the world's hungry. We believe that everything we make should taste good and do good too. So we try to make it easier for people to do themselves some good, and to leave the planet a little bit better than how we found it.
This is reflected in everything we do, from the use of green electricity at Fruit Towers, to sourcing fruit from places that go the extra mile in terms of looking after all the people that work on the farms and the environment, through to committing to becoming carbon neutral by 2030.If you fancy finding out more, head to www.innocentdrinks.co.uk