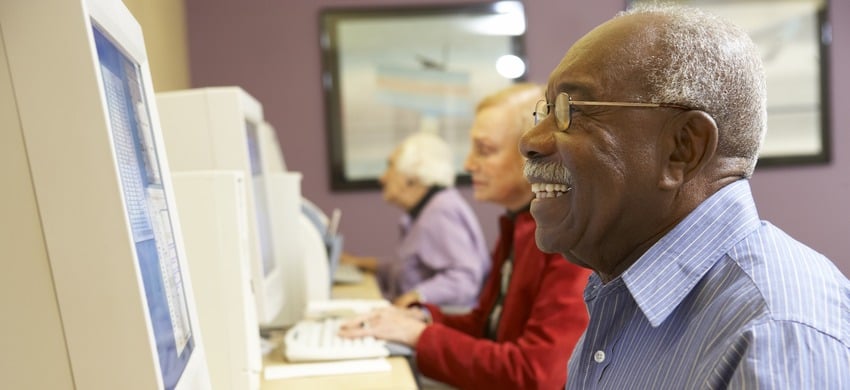 We're a local charity working in the community to support older people, their families and carers. We want everyone to be able to love later life.
Age UK Manchester (formerly Age Concern Manchester) is an independent charity working with and for older people across Manchester.

Like many other local Age UKs, our roots can be traced back to an "older people's welfare committee". In our case the charity was part of the then Manchester and Salford Council for Voluntary Service, and in January 1976 the first separate charity called "Age Concern Manchester" was established. The charity grew steadily and a fundamental review of organisational and managerial structures was in progress when, in June 1996, the IRA bomb that devastated Manchester's City Centre rendered our Corn Exchange headquarters unusable, causing considerable disruption to the charity's organisation.

However our staff and volunteers worked tirelessly to ensure that our work in the community and in our local day centres continued and that services to older people were sustained throughout a very difficult time.

Since the bombing, our Headquarters have moved to a number of different locations, and we are currently based at 20 St Ann's Square, Manchester, M2 7HG.

Our charity is Registered with the Charity Commission (1083242) and is a Company Limited by Guarantee. Our governing body is the Board of Trustees which meets once a month to receive reports and discuss progress.

Trustees currently on the Board are all volunteers and are senior professionals or retired professionals, bringing their combined knowledge of finance, law, accountancy, the management of human resources, charities, transport, nursing, mental health, and social care to the governance of the charity.

The wide and growing range of "what we do" is detailed throughout this website and we do hope that you will find our website helpful and informative.

We rely on your support to keep serving the community. We are supported by donations from the public, income from our charity shops, and some charitable grants.

There are many opportunities on this website to donate directly to Age UK Manchester.